MAGIC HARVEST
Year: 2011
Classification: Exempt - Ronin Recommends: G
Runtime: 26 min
Produced In: Australia
Directed By: Jeni Lee
Produced By: Julia de Roeper
Language: English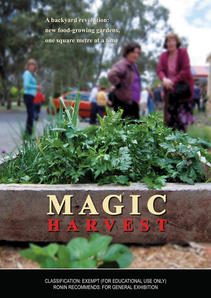 price includes GST and postage

All over the world, new suburbs are being built on good agricultural soil. Global warming and suburban sprawl are causing water supply problems and a decline in soil nutrients. Feeding the world's ever-expanding population is a growing global concern.
Where is the land that once grew food? It's at your own back door!
This documentary tells the story of a backyard revolution that is developing in South Australia. In her book, One Magic Square (Wakefield Press, 2009), Lolo Houbein shares her vision for Australian suburbs to become productive once more. The key is to start small and to grow food we like to eat – a salad plot or greens for an Asian stir-fry.
Inspired by Lolo's book, South Australian olive grower and wine-maker, Tori Moreton has invited residents in Adelaide's sprawling southern suburbs to dig up one square metre of the backyard and create their own magic square of garden. Each participating home is given a starter kit to get them going, a bag of compost and some organic seedlings, and are supported with workshops and advice.
Magic Harvest is an insightful and often humorous film following participants in the scheme from start to finish, as they get their hands dirty, digging, composting and looking after their new gardens. It is a celebration of getting back to basics – growing, cooking and eating simple seasonal organic food.
Permalink: https://www.roninfilms.com.au/feature/5853