MY MOTHER NANCY (Family Foibles)
Year: 2001
Classification: Exempt - Ronin Recommends: G
Runtime: 27 min
Produced In: Australia
Directed By: Veronica Iacono
Produced By: Steve Thomas
Language: English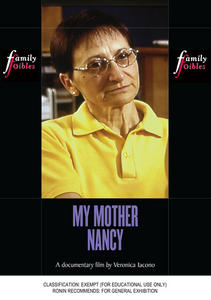 price includes GST and postage

Family Foibles is a series of five half-hour documentaries that examine contemporary Australian families. Each story revolves around a family confronting a problem. These range from the relatively benign issue of omission in the telling of a family history to domestic violence and the threat of family break-up.
MY MOTHER NANCY
Nancy is fifty and has finally decided she needs a life of her own.
Having had a traditional Italian, Catholic immigrant upbringing in Sydney, marrying when her parents wanted her to and raising a family of three (including her daughter, Veronica, the director of this documentary), Nancy has challenged the cultural norms and opened a cafe without her husband's approval. He refuses to set foot inside the cafe and now there's talk of a family breakdown.
Meanwhile, Nancy's sisters criticise her bid for independence and, of course, her kids think they know what's best for her.
The other 4 episodes in the FAMILY FOIBLES series are: KIM & HARLEY & THE KIDS, MICK'S GIFT, THE WOODCUTTER'S SON and UPSTAIRS DOWNSTAIRS.
Related files
Permalink: https://www.roninfilms.com.au/feature/432