MY HOME THE BLOCK
Year: 2007
Classification: Exempt - Ronin Recommends: PG
Runtime: 52 min
Produced In: Australia
Directed By: Trevor Almeida
Produced By: Trevor Almeida
Language: English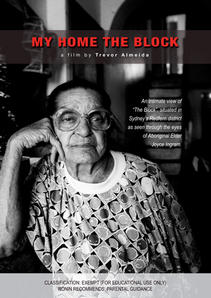 price includes GST and postage

Joyce Ingram is an Indigenous elder living in the notorious Redfern neighbourhood called "The Block". She has fought battles and has won some historically significant ones.
She lived on The Block when it was the first urban land rights victory for Indigenous Australians in the 1970s.
Today, she struggles to support the kids on the troubled Block, to save them from drug overdoses, the cops and the loneliness of prison.
At 83, she faces her greatest battle — saving her home.
This is a window into a tough world. It exposes the daily struggles of an urban Indigenous community and an elder's resilience, compassion and love.
Permalink: https://www.roninfilms.com.au/feature/2080