SHORT STORIES
Year: 2006
Classification: Exempt - Ronin Recommends: PG
Runtime: 104 min
Produced In: Australia
Directed By: Matthew Duffy, Stuart McArney
Produced By: Matthew Duffy, Stuart McArney
Language: English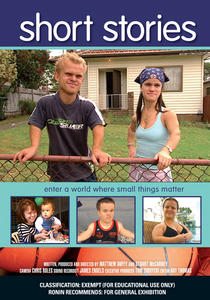 price includes GST and postage

SHORT STORIES is comprised of four remarkable stories - all linked through their association with the NSW short statured basketball side - and follows the extraordinary and compelling life experiences of four memorable individuals.
The series focuses on the characters lives rather then their disability, but is is their disability that makes their life experience so intense and their stories so compelling.
SHORT STORIES explores universal themes of life, death, love, identity, family and hope in the context of a disability that is a lifelong struggle. As we learn about what it is like to be short statured and deal with these themes, we in turn learn to better understand ourselves.
Fascinating, moving and entertaining, SHORT STORIES is a must-see journey into the lives and communities of four people you will never forget.
Episode 1: AMANDA'S STORY - is the moving and epic story of a determined young woman who wants to have a baby in the face of incredible odds.
Episode 2: AMMIE'S STORY - is the story of a young girl from a broken home who travels overseas for a stage show only to realise what matters is the family she has left behind. But which family?
Episode 3: ROSA'S STORY - is the story of woman who marries a Texan she met in an online chat room and must choose between the man she loves and the life she wants for herself and her baby.
Episode 4: NATHAN'S STORY - is the story of two brothers - one short, one tall – who are forced to confront their differences after the sudden death of both their parents.
WINNER! BEST SHORT DOCUMENTARY - 2006 ATOM AWARDS - Episode One: Amanda's Story