HOPE IN A SLINGSHOT
Year: 2010
Classification: M
Runtime: 61 min
Produced In: Australia
Directed By: Inka Stafrace
Produced By: Inka Stafrace
Language: English + English subtitles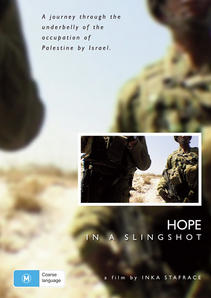 price includes GST and postage

This is an eloquent and passionate story that brings a necessary human dimension to a highly politicised crisis. Australian filmmaker Inka Stafrace courageously journeys through Israeli military incursions in the West Bank to discover for herself some of the human truths behind this devastating issue that holds the world in divide.
This hard-hitting documentary is about power and control, exploitation and dispossession, injustice and persecution. Through dynamic maps, statistics, interviews (with lawyers, ex-prisoners, Israeli soldiers, wounded teenagers, farmers and settlers) and the personal experiences of the filmmaker, the film demonstrates just what is happening to Palestinians and their human rights as their daily lives and opportunities are increasingly restricted by the actions of Israeli soldiers and civilians. The film also explores the way in which the United Nations and other countries are unable - or unwilling - to halt these incursions.
Travelling on her own, the filmmaker takes us through the underbelly of Israel's occupation of Palestine. Her film, often shot at considerable personal risk, creates a remarkable picture of what day-to-day life is like for Palestinians living in the West Bank.
Official Selection! Iran International Film Festival 2008
The film has received many expressions of support. Dr Jake
Lynch, Director of the Centre for Peace and Conflict Studies at the University of Sydney, and a member of the Advisory Board of the Sydney Peace Foundation, makes the following comment: HOPE IN A SLINGSHOT is "extremely impressive. ... A signal contribution to peaceful media representation of this conflict".
---
Review of HOPE IN A SLING SHOT by film critic Sylvia Lawson inside.org.au/arguing-for-peace/
Follow this link to view a trailer of this title along with others for use in support of overseas aid programmes: www.youtube.com/watch?v=hl1yF7wgcL4
---
Inka Stafrace has posted a new short film on youtube about the Israeli/Palestinian conflict: www.youtube.com/watch?v=VfcLa9ojxLI
Inka made this short film whilst researching her new film, FINGER POINTING TO EARTH, about the conflict.
---
Related files
Permalink: https://www.roninfilms.com.au/feature/1706