LIONEL
Year: 2008
Classification: M
Runtime: 83 min
Produced In: Australia
Directed By: Eddie Martin
Produced By: Lizzette Atkins
Language: English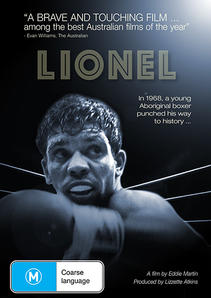 price includes GST and postage

In 1968 a young aboriginal boxer named Lionel Rose punched his way to history in Japan when he became the undisputed bantamweight champion of the world. This is his story, before and after he became a legend.
Lionel Rose was Australia's first boxer with a world crown, and perhaps the first great Aboriginal sporting hero. Two hundred and fifty thousand people lined the streets of Melbourne to welcome him home.
He became a symbolic figure in the interracial politics of the times. He won his world title just a few months after the referendum which gave the Australian Government new powers to advance Aboriginal rights.
Over the next few years he married his childhood sweetheart in a blaze of publicity, defended his crown, spent his money on his extended family, gambling, drugs and low life companionship. Four years later he lost his title, his marriage broke up, and he tangled with the law, did time, and briefly became a country music star.
Combining a selection of archival and new footage, the story of Lionel Rose is told with remarkable candour, driven by interviews and the use of voice-over from Lionel himself. The film explores how he became a mythic sporting figure and his struggle with the dimensions of that myth in his life. It is an intricate portrayal of a complex human being.
---
"LIONEL is one of the best sports documentaries ever made in this country" - Leigh Paatsch, Herald Sun
"A BRAVE AND TOUCHING FILM ... among the best Australian films of the year" - Evan Williams, The Australian
---
A Circe Films production
Directed by Eddie Martin
Produced by Lizzette Atkins
Director of Photography - Germain McMicking
Written by david Tiley and Eddie Martin
Editor - Ken Sallows ASE
Music composer - Cezary Skubiszewski
Sound designer - Nick Batterham
Developed in association with the Australian Film Commission
Produced in association with SBS
Produced with the assistance of Film Victoria
Principal investor - Film Finance Corporation of Australia
Related files
Permalink: https://www.roninfilms.com.au/feature/12245