I REMEMBER 1948
Year: 2005
Classification: Exempt - Ronin Recommends: G
Runtime: 24 min
Produced In: Australia
Directed By: Fadia Kisrwani Abboud
Produced By: Martha Ansara
Language: Arabic and English language with Arabic/English subtitles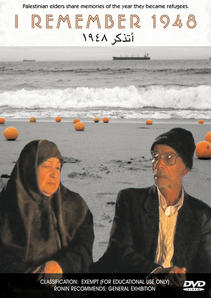 price includes GST and postage

'If I live one thousand years, you think I will forget that?' - Fouad Charida.
Speaking in Arabic and English, Soliman Al-Halawani, Dr. Mahmoud Hourani, Fouad Charida, Dib El Chami and Rafica El Chami Batach tell of their life in Palestine before 1948 and give eye-witness accounts of the tumultuous days of 'Al Nakba' (the catastrophe), May 15th, and its aftermath. As children and young adults, they and their families were among 750,000 Palestinians fleeing for their lives, as Zionist terror gangs began seizing villages to enlarge the recently created State of Israel.
The stories told by these speakers are poignant, unexpected and sometimes surprising, expressing not only the tragedies but also the small miracles which occur in a human catastrophe of such dimensions. Prevented from returning to their homes, the speakers lived as refugees, eventually making their way to Australia. Their continued longing to see their homeland eloquently expresses the feelings of the dispossessed everywhere, and gives this film a universal dimension.
Directed by young Arab experimental filmmaker, Fadia Abboud, I Remember 1948 is stylistically innovative while maintaining a simple, direct form of address. Its abstract backgrounds gently evoke mood and place, as does the powerful music for oud, cello, violin and percussion of Joseph Tawadros, 2006 winner of the prestigious Freedman Fellowship.
'I still have the greatest desire to go back to Palestine, to the place where I was born and have a handful of dirt in my hand just to say that I am back, I still feel that I belong to that land.' - Dr Mahmoud Hourani.
"I remember 1948 for in that year, on 13 May I was born – so I've been around exactly as long as the State of Israel and for as long as the impact of its birth has been felt by the people of Palestine. This film tells of that impact in a poignant, moving and entirely human way – it speaks from and to the heart. It makes it clear that in all of this time – in all of my life – there has never been true peace and real justice for any of the parties concerned. Will there ever be such peace and such justice in my lifetime ? It would be an even more unspeakable tragedy than the present if it were not so." - Professor Chris Puplick AM, former Senator for New South Wales.
---
Festival Screenings:
Sydney Film Festival
Sydney Arab Film Festival
Flickerfest International Short Film Festival
Chicago Palestine Film Festival
UNHCR Refugee Film Festival
Washington, D.C., Palestine Centre Screenings
Brisbane International Film Festival
Related files
Permalink: https://www.roninfilms.com.au/feature/734