Martha Ansara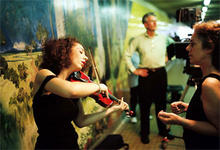 Martha Ansara, recipient of the Australian Film Institute's Byron Kennedy Award (1987), is a documentary filmmaker whose films on social issues have won international prizes and been screened in Australia, the UK, Europe and North America. A full member of the Australian Cinematographer's Society (ACS), Martha was one of the first women in Australia to work as a cinematographer. She is currently working with the ACS Book Committee as author of a photographic history of Australian Cinematography.
Martha has been a founding member of a number of cultural, women's and industry organisations. She is a recipient of the Women's Electoral Lobby's Edna Ryan Award.
In 1999, she was invited to screen her films in a tribute to Australian Women's Cinema at the Creteil International Women's Film Festival, France. She is a graduate of the Australian Film Television & Radio School (1978) and has an M.A. in Applied History (University of Technology, Sydney, 1994).
Martha is currently an member of Ozdox - the Australian Documentary Forum, the Society of Australian Cinema Pioneers, The Archive Forum and the Film and Broadcast Industries Oral History Group, of which she was the founding convenor.
Martha has worked as a project officer for the Women's Film Fund of the Australian Film Commission (AFC), as an assessor for the AFC and other film organizations, and as a lecturer in film, including at the Australian Film Television & Radio School and other tertiary institutions. She is a film valuer for the National Film and Sound Archive, a pre-selection panel member for the Sydney Film Festival and a patron of the Film and History Conference.
Martha's recent films as a producer have been Ordinary People (broadcast on the ABC, 2002) and I Remember 1948 (2005, producer - broadcast on SBS May, 2008). As a director, she has recently completed a short drama, The Ballad of Betty & Joe.
[Photo: Martha Ansara directing The Ballad of Betty & Joe]
Filmography
| | |
| --- | --- |
| | 'If I live one thousand years, you think I will forget that?' - Fouad Charida. Speaking in Arabic and English, Soliman Al-Halawani, Dr... |