HERE'S MY HAND: A testimony to an Aboriginal Memorial
Year: 1988
Classification: Exempt - Ronin Recommends: G
Runtime: 27 min
Produced In: Australia
Directed By: Michael Edols
Produced By: Michael Edols
Language: Indigenous languages with English subtitles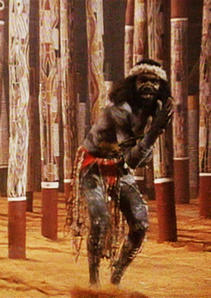 price includes GST and postage
Only available in the ASPECTS OF A LIFE collection.
---
The 1988 Australian bicentenary prompted many artistic events and contemporary expressions of Australia's living cultures. One of the most remarkable of these was the first memorial ever created by Aborigines for Aborigines - two hundred bone burial poles were carved and painted by Arnhem land artists to honour the deceased of the past - lost people, lost tribes, lost languages. This unique Aboriginal Memorial captures this spiritual event. This collection seeks to reassure surviving Aboriginal Australians that there is a living continuity of traditions.
On 30 September 2010, the National Gallery of Australia in Canberra had its official opening of a new entrance and wing. The forest of 'Dunpuns' – the hollow log bone burial poles – is seen as a permanent display in the new entrance.
---
Only available in the ASPECTS OF A LIFE collection. - follow this link for purchase of this title - www.roninfilms.com.au/feature/6507/aspects-of-life-working-with-indigenous.html
Permalink: https://www.roninfilms.com.au/feature/6545