DRAMA SCHOOL
Year: 2001
Classification: Exempt - Ronin Recommends: PG
Runtime: 270 min
Produced In: Australia
Directed By: Kate Bannatyne, Rachel Landers
Produced By: Michael Cordell
Language: English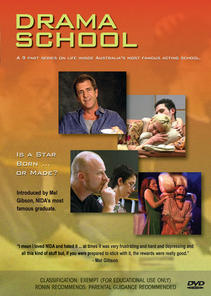 price includes GST and postage

Introduced by Mel Gibson, NIDA's most famous graduate: "I mean I loved NIDA and hated it ... at times it was very frustrating and hard and depressing and all this kind of stuff but, if you were prepared to stick with it, the rewards were really good." - Mel Gibson.
DRAMA SCHOOL - a year in the life of Australia's most prestigious acting school, where what happens off stage is often more dramatic than what happens on it.
DRAMA SCHOOL is a nine part series following the professional and personal journeys of acting students at the National Institute of Dramatic Art in Sydney - the drama school that's produced such international stars as Mel Gibson, Judy Davis and Cate Blanchett.
Thousands of hopefuls from around the country compete for 26 acting positions. We witness a small group of aspiring actors make it through the tough audition process, then endure the confronting first year at "boot camp NIDA". By the end of the gruelling course not all will survive.
DRAMA SCHOOL simultaneously follows the third year students as they prepare to graduate and begin an exciting but unpredictable future as professional actors.
Made by some of Australia's foremost documentary producers, DRAMA SCHOOL provides an entertaining and moving insight into what makes an actor.
Related files
Permalink: https://www.roninfilms.com.au/feature/640