DRIVE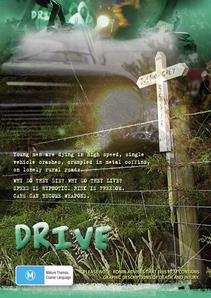 price includes GST and postage

PLEASE NOTE: Ronin advises that this film contains graphic descriptions of death and injury.
---
In 1915 the biggest killer of young Australian males was Gallipoli. Today the biggest killer of young men aged 18-25 years is the road.
Tasmania lays claim to Australia's highest rate of road fatality. Young men are dying in high speed, single vehicle crashes, on lonely rural roads. DRIVE is a film about the darker side of emerging Australian culture; about every young man's quest and struggle to understand his insides. Turn seventeen and gain your license. Turn eighteen and gain the legal right to drink alcohol. DRIVE is about more than manhood, it is about a cultural addiction to destruction.
Scattered across the picturesque North West Coast of Tasmania are memorials to those who have died on the roads. These sites are often well maintained over many years by those who can't forget. Shrouded in the grief that's tearing communities apart are the young men's peers, still grappling with their own future and identity.
Lincoln, 24, regains consciousness, car ripped to pieces around him, to the sound of his passenger's final blood-curdling scream from the seat beside him. Justin, 22, a drunken passenger in a car driven too fast by a drunk driver is thrown to his death. Aaron, 19, battles his fear of the juvenile justice system with drugs, booze and intravenous injections of brake fluid. Boden, 19, trades his skateboard for a mate's car and a drunken, speeding death, leaving behind his new-born son. On the verge of manhood and the throbbing brake-horse-power of first cars, Brad, 16, and his mates race headlong into danger above the four wheels of their skateboards.
---
DRIVE is the latest of Big hART's award winning projects, engaging young men on the margins of their rural communities with camera and microphone to help them express their ideas. Projects create outcomes for participants as well as community volunteers and partners, building capacity, resilience and sustainability.
"Part of the Big hART model that is so impressive is that they have a real emphasis on peer support work. They have young people working with young people, locals working with locals."
- Dianne, Youth Worker
---
EXTRA FEATURES: Alongside the DRIVE documentary, over 160 minutes of short films take you further into the Tasmanian landscape, the characters and the questions our culture needs to be asking.
---
Follow this link to view DRIVE trailer: www.youtube.com/watch?v=ubqzG25do4c
---
Related files
Permalink: https://www.roninfilms.com.au/feature/4547