CAR CRASH
Year: 1995
Classification: M
Runtime: 51 min
Produced In: Australia
Directed By: David Caesar
Produced By: Glenys Rowe
Language: English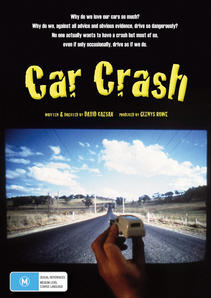 price includes GST and postage

Why do we love our cars so much? Why do we, against all advice and obvious evidence, drive so dangerously? No one actually wants to have a crash but most of us, even if only occasionally, drive as if we do.
In David Caesar's film CAR CRASH a series of ordinary Australians sit, frail and dwarfed against outsize snapshots of roadside landscapes, and tell their stories of love, life and tragedy in cars. Maybe the car represents that little bit of 'WILD' not yet crushed by our modern domesticated lives? In a world where people feel increasingly powerless, is the car a means to some kind of self determination and control?
What the stories reveal is that we love our cars: we love the illusion of freedom they give us and we are willing to pay: with our land, our air, our peace of mind and ... our blood.
A film by David Caesar, one of Australia's most innovative documentary filmmakers. Amongst his previous films are the award-winning BODYWORK, LIVING ROOM, FENCES, CONVICTIONS, IDIOT BOX, MULLET and DIRTY DEEDS.
"A sickeningly funny and ultimately horrifying analysis of the passion Australians have for their automobiles." - Anna Maria Dell'Oso, Sydney Morning Herald.
"Absolutely captivating." - Adrian Martin, The Age.
"An often hilarious look at this country's auto-culture, and at the same time an exploration of the Australian character." - Lynden Barber, Weekend Australian.