DEADLY YARNS 2
Year: 2006
Classification: Exempt - Ronin Recommends: G
Runtime: 33 min
Produced In: Australia
Directed By: Various
Produced By: Various
Language: English + English subtitles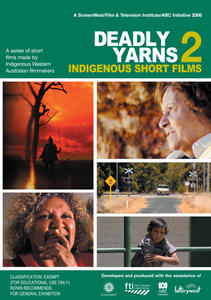 price includes GST and postage

ADRIFT [6.18]
Writer: Gavin Narkle | Director: Gavin Narkle | Producer: Mandy Corunna
Thomas is a wayward young Aboriginal boy influenced by the gangs of suburban Perth. After being involved in minor offences, his mother decides to take him to stay with his grandfather. New to the life of a country town and unsure of where he fits in, Thomas finds himself drawn to the land of his mothers' people. Taking Thomas fishing, in an attempt to bond with his urban and distant grandson, Pop tells him stories of the land and shows him a quieter and cultural way of life. The stories set Thomas off on a personal adventure that ultimately brings Thomas and his Pop closer.
---
FRANKIE'S STORY [6.48]
Writer: David Ngoombujarra | Director: David Ngoombujarra | Producer: Annie Parnell
"Some things that happen when you're a child mark you for life," says forty-year old Frankie. He remembers the day he was prevented from attending a school excursion. Not permitted to join his classmates on their trip to the fire station, young Frankie coaxes fire engines to come to him, one hot summer's day many years ago. Told as flashback, FRANKIE'S STORY portrays a child's confusion and humiliation in the face of discrimination he's too young to understand. Frankie's poignant loss of innocence raises universal issues of social justice.
---
MAIN ACTORS [6.08]
Writers: Kylie Farmer & Irma Woods | Director: Kyle Morrison | Producer: Irma Woods
It's auditions day in Perth for a new play. Ricky, a dancer, has encouraged his cousin, Tess, to audition as well. It's her first audition, and she's brought her mother, Grace, along for support. Seeing an auditionee exit in distress, Grace can't understand why her daughter and nephew would put themselves through the auditioning process to get a job. After being disillusioned upon meeting a soapie star, Ricky hurting himself and the director being rude to Tess, Grace decides to speak up with unexpected consequences.
---
TALKABOUT WALKABOUT [8.25]
Writer: Josie Boyle | Director: Gary Cooper | Producer: Janine Boreland
Walkabout, what's it all about? It not leaving about responsibilities - its about pilgrimage, its about devotion, its about religion. Wongutha woman, Josie Boyle, tells the story of her father, Bingi, how he claimed her after mission life and what he taught her about her culture.
---
WEEWAR [6.00]
Writer: Karrie-Anne Kearing | Director: Glen Stasiuk | Producer: Naomi Ashcroft
In 1842 Weewar a Bindjareb Warrior carried out a tribal payback by spearing Dyung of the Mooro group. His trial became the test case that determined that British law prevailed over traditional Aboriginal law.
---
Follow links to other DEADLY YARNS series:
DEADLY YARNS
DEADLY YARNS 3
DEADLY YARNS 4
or buy the complete package - BUY 3 GET 1 FREE - www.roninfilms.com.au/video/819/20/2415.html
Permalink: https://www.roninfilms.com.au/feature/2200