EVER THE LAND
Year: 2015
Classification: Exempt - Ronin Recommends: G
Runtime: 93 min
Produced In: New Zealand
Directed By: Sarah Grohnert
Produced By: Alexander Behse
Language: English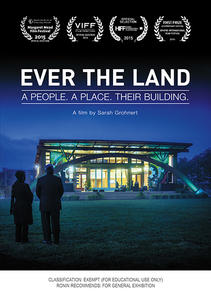 price includes GST and postage

EVER THE LAND explores the sublime bond between people and their land through the landmark design and construction of a unique "Living Building" by one of Aotearoa New Zealand's most passionately independent Maori tribes, Ngai Tuhoe.
For 150 years, longstanding grievances over extreme colonisation tactics such as illegal land confiscation and scorched earth policies had defined the relationship between Tuhoe and a succession of New Zealand governments. Then in 2014, history was made: Te Urewera, Tuhoe's ancestral homelands, were returned, the New Zealand government gave an official apology, and the Tuhoe people built the first ever "Living Building" in Aotearoa.
Conceived as symbolic testament to Ngai Tuhoe values and their vision of self-governance, the new building, and the story of its design and construction, ties together a wealth of characters, history and experiences in this thoroughly engaging observational documentary. The creation of the building immerses us in a culture of people closely entwined with the land, and in a form of architecture distinguished by the integrity of its relationship with the environment.
---
VIEW THE TRAILER HERE: vimeo.com/298288415
---
New Zealand International Film Festival 2015 – WORLD PREMIERE
Vancouver International Film Festival 2015 – INTERNATIONAL PREMIERE
Margaret Mead Film Festival 2015 (nominated for Margaret Mead Filmmaker Award)
Hawaii International Film Festival 2015
Tassie Eco Film Festival Hobart 2015
Reel Earth Film Festival NZ 2015
Guangzhou International Documentary Film Festival 2015
Raglan Arts Film Festival 2015
Auckland Architecture Week Mini Festival 2015
Powell River Film Festival 2016
Geelong Environmental Film Festival 2016
Big Sky Documentary Film Festival 2016
Haida Gwaii Film Festival 2016
Voices of Sacred Earth Film Festival 2016
DCEFF Washington Environmental Film Festival in the Nation's Capital 2016
43rd Athens Ohio Film & Video Film Festival 2016 (Winner 1st Prize Feature Documentary Competition)
Aotearoa NZ Film Showcase Honolulu 2016
New Zealand Film Festival in China, 2016
ETNOFILM Croatia 2016 (In Competition)
BAFICI Buenos Aires International Independent Film Festival 2016 (nominated for Human Rights Film Award)
Transitions Film Festival Adelaide 2016
Venice Architecture Biennale 2016
Philippines World Premieres Festival, July 2016
Cine Eco Seia, Portugal 2016 (In competition)
Planet in Focus 2016
Oslo Architecture Biennal, October 2016
Permalink: https://www.roninfilms.com.au/feature/13971