ON THE BANKS OF THE TIGRIS
Year: 2015
Classification: Exempt - Ronin Recommends: G
Runtime: 79 min
Produced In: Australia
Directed By: Marsha Emerman
Produced By: Marsha Emerman
Language: English + English subtitles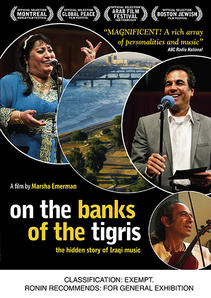 price includes GST and postage

A musical odyssey that uncovers the hidden – and almost erased – story of Iraqi music.
As a young boy, Majid Shokor loved singing and listening to music in the cafes and markets of Baghdad. Music and acting were his passions, but Saddam's brutal regime shattered his dreams and forced him to flee.
Australia is a safe haven, but the music of childhood lingers in Majid's mind. He begins to search and makes a startling discovery - that many of the best-known Iraqi songs were written by Iraqi Jews. Saddam's regime purged Iraqi music of its origins, but Majid re-engages with his musical history as he travels the world to meet exiled Iraqi musicians - Jewish, Muslim and Christian - who still sing and play these songs.
Majid's quest takes him from Australia to Israel, Europe and Iraq to find some of the great Iraqi musicians and to record their stories. Young and old, they all share a sense of loss and longing for their homeland.
Majid's dream of a unifying concert bears fruit when Iraqi musicians of all faiths perform together in a joyful celebration at London's Barbican Centre.
This moving film re-discovers a wealth of music and performance and celebrates the cultural ties that link Iraqis of all faiths, now scattered throughout the world.
---
AWARDS
BEST DIRECTOR (DOCUMENTARY) - Nepal Human Rights International Film Festival
BEST DOCUMENTARY - Baghdad International Film Festival
AUDIENCE CHOICE - Arab Film Festival, San Francisco
FINALIST - Best Documentary - Social & Political Issues, ATOM Awards
---
FESTIVALS
Nepal Human Rights International Film Festival
Montreal World Film Festival, Canada
Global Peace Film Festival, USA
Baghdad International Film Festival, Iraq
Boston Jewish Film Festival, USA
Arab Film Festival - San Francisco, USA
Jewish International Film Festival, Australia
Ahbab Festival, Cambridge, UK
Washington Jewish Film Festival, USA
Stockholm Culture House Theatre, Sweden
New York Sephardic Film Festival, USA
Krakow Festival of Jewish Culture, Poland
---
Related files
Permalink: https://www.roninfilms.com.au/feature/12929