BLACK MAN'S HOUSES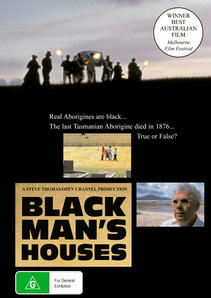 price includes GST and postage

This documentary tells the story of black survival in Tasmania amidst the continuing suppression of history and culture. In doing so, it challenges skin-deep assumptions about Aboriginality today.
More than a hundred years after the Tasmanian Aboriginal people were declared extinct, their descendants set out to reclaim the lost graves of their ancestors on Flinders Island in Bass Strait. The neglected burial site at Wybalenna (or 'Black Man's Houses') which, in the 1830s was Australia's first segregated Reserve, is now a battleground dividing a community.
Although set on a tiny island, BLACK MAN'S HOUSES has major relevance in a post-colonial world which has underestimated the ability of Indigenous cultures to evolve, to adapt and to incorporate their conquerors.
A film by Steve Thomas.
VIEW TRAILER HERE: vimeo.com/545821525
"This film is an open-hearted and deeply moving story of what makes us black." - Greg Lehman, Riawunna Centre for Aboriginal Education, Tasmania.
"In a period when national and racial identity problems are in the forefront of world developments, this film has much to tell us about the survival of cultural identity in the face of generations of adversity." - Prof. Henry Reynolds, historian & author.
WINNER! BEST AUSTRALIAN FILM - Melbourne Film Festival.
Permalink: https://www.roninfilms.com.au/feature/794