RIDDLE OF THE BRADSHAWS, THE
Year: 2002
Classification: Exempt - Ronin Recommends: G
Runtime: 53 min
Produced In: Australia
Directed By: Paul Roy
Produced By: Jenny Ainge, Paul Roy
Language: English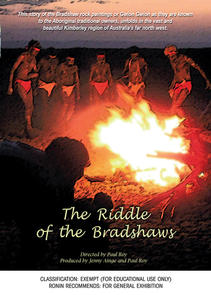 price includes GST and postage

This story of the Bradshaw rock paintings or Gwion Gwion as they are known to the Aboriginal traditional owners, unfolds in the vast and beautiful Kimberley region of Australia's far north west.
The Bradshaws are possibly the oldest known cave paintings of humans in the world. These are no primitive daubs or even the familiar Aboriginal hand stencils and Wandjiina of living memory. Instead, the Bradshaws, hidden from the outside world for thousands of years, are sophisticated and graceful drawings, depicting highly decorated figures adorned with tassels, delicate jewellery and elaborate headdresses.
In part the film follows the 25 year crusade by controversial, self-taught researcher, Graham Walsh, who has spent half a life-time trying to establish the origin of the paintings and to decipher what he believes is a hidden language. Graham is acknowledged to be the world leading white authority on the Bradshaws and has fanned intense academic debate and vitriol by claiming that these paintings may have been painted by an unknown race of people who preceded today's Aboriginal people. Some Aboriginals and almost the entire academic community hotly contest this view.
This is an archeological who-dunnit which honours the work of unknown ancient artists, the living indigenous people of Australia and a cast of scientists, both passionate and at times eccentric, on whom the Bradshaws have cast their spell.
Permalink: https://www.roninfilms.com.au/feature/5761