MISSING PRESUMED DEAD
Year: 2008
Classification: Exempt - Ronin Recommends: PG
Runtime: 55 min
Produced In: Australia
Directed By: Gerard Reed
Produced By: Gerard Reed
Language: English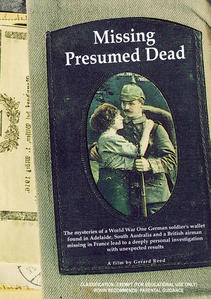 price includes GST and postage

The mysteries of a World War One German soldier's wallet found in Adelaide, South Australia and a British airman missing in France lead to a deeply personal investigation with unexpected results.
In an antique shop in Adelaide, South Australia, filmmaker Gerard Reed happened upon a wallet belonging to a German soldier from World War One. The soldier was identified as Heinrich Bornkamp, and his wallet contained a number of personal items including poignant letters from his family and his fiancée.
Fascinated by the find, Reed begins an investigation of the fate of the German soldier, and sets out to trace his descendants and, if possible, return the wallet to them.
Simultaneously Reed begins to explore the mystery surrounding the fate of his own Great Uncle, Pat Murphy, who went missing in action in the same war. This personal quest intersects with his enquiry into the life of Heinrich Bornkamp, and gradually both stories are pieced together, with surprising results.
This unusual and compelling documentary brings to life the daily experiences of soldiers on the front-line in the First World War. Its twin stories are enhanced by extensive location filming in England, Belgium, France and Germany, and by a wealth of archival imagery and extracts from contemporary letters and diaries. Interviews with experts such as historian Bill Gammage, further enrich the evocation of the period.
PRINCIPAL CREDITS
Produced and directed by Gerard Reed
Consulting producer and script editor – Rod Freedman
Photography by Gerard Reed
Editors – David Banbury, Andrew Ellis, Gerard Reed
Narration – Gerard Reed
Filmed on location in Australia, England, Belgium, France and Germany
Developed in association with the Australian Film Commission
Developed with the financial assistance of the South Australian Film Commission
Developed and produced in association with the Australian Broadcasting Corporation