THIS IS HOW YOU'LL MAKE YOUR BED IN PRISON
Year: 2009
Classification: Exempt - Ronin Recommends: G
Runtime: 10 min
Produced In: Australia
Directed By: Katie Mitchell
Produced By: Anna Kojevnikov
Language: English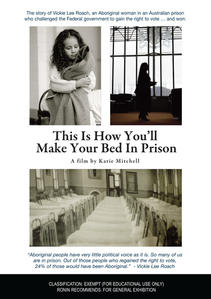 price includes GST and postage

Vickie Lee Roach always felt like an outsider. As an Indigenous woman who was taken away from her mother at a young age, Vickie grew up between foster homes and youth shelters, later spending large portions of her life on the streets and also in prison.
While incarcerated in Dame Phyllis Frost prison Vickie pursued a university education, giving her a new perspective on human rights issues. During this time she learned that the Howard government had passed a bill banning all prisoners from voting in Federal elections. Outraged by this attack on the human rights of prisoners, Vickie decided to challenge this new law. For her it was an opportunity to speak out against the further exclusion of people in prison and to challenge all that the ban represented.
Assisted by committed lawyers, including Phil Lynch of the Human Rights Law Centre, the case made its way to the High Court of Australia, arguing that the right to vote is constitutionally protected. Although she couldn't personally appear in court, and despite considerable personal risk as a prisoner daring to be prominent, Vickie eventually succeeded, resulting in a landmark decision which found that the Howard Government had acted unlawfully and unconstitutionally. It was a victory for representative democracy, accountable government, the rule of law, and fundamental human rights. It was also a personal victory for Vickie who was subsequently awarded the Tim McCoy Human Rights Award.
This outstanding short film offers an insight into both Australian human rights history and the life of Vickie Lee Roach, a woman who wasn't afraid to take on the highest powers to get back the most basic rights.
Directed, written and edited by Katie Mitchell, a post-graduate student at the Victorian College of the Arts, University of Melbourne, the film has played at festivals across Australia and internationally. It has also been recognised with the VCA Moving Clickers Award for Best Script and the VCA Film Victoria Award for Best Post-Graduate Diploma Documentary.
Permalink: https://www.roninfilms.com.au/feature/8791