TOOMELAH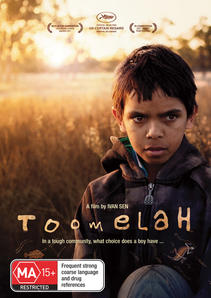 price includes GST and postage
In a remote Aboriginal community, Daniel, a sensitive, troubled 10 year old boy from a broken home, yearns to be a "gangster" like the male role models in his life. Skipping school, getting into fights and running drugs for Linden, the local gang leader.
As Daniel's home life becomes increasingly difficult, he has to deal with the return of an elderly Aunt who was removed from the mission when she was a young child. Daniel watches her as she struggles to reconnect and find her place in the community. Daniel moves in with his gang and is well on his way to becoming a little gangster. His sometime girlfriend Tanitia still holds out hope for Daniel, trying to get him to go back to school.
---
"The script was written directly from experiences and memories I have from visiting Toomelah ... The audience constantly travels through the eyes of Daniel as he navigates his way in search of his place in the community ... I needed these totally inexperienced actors to feel very comfortable. So my idea was to pretty much make the film with no crew. It was a big gamble ... Their beautiful spirit transcends every scene." - Ivan Sen
---
"TOOMELAH is gently spellbinding." - Stephanie Bunbury, Sydney Morning Herald.
"A heartbreaking portrait of life in the forgotten margins of the Australian outback." - Melbourne International Film Festival.
---
Special Features on DVD including interview with the director, Ivan Sen.
---
OFFICIAL SELECTION - UN CERTAIN REGARD, Festival Du Cannes
IN COMPETITION - 2011 Sydney Film Festival
BEST ACTOR NOMINATION - 2011 Asia Pacific Screen Awards
---
Related files
Permalink: https://www.roninfilms.com.au/feature/6942