OH, BEETHOVEN!
Year: 2009
Classification: Exempt - Ronin Recommends: G
Runtime: 25 min
Produced In: Australia
Directed By: Andrew Pike
Produced By: Andrew Pike
Language: English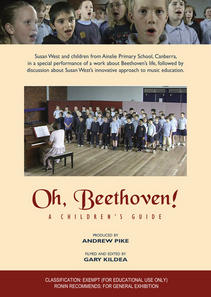 price includes GST and postage

Dr Susan West was trained as a music educator in Australia, Hungary and New York. For 5 years she was a principal flautist with the Sydney Symphony Orchestra. She currently teaches music in Canberra at various levels from kindergarten to university.
OH, BEETHOVEN! is a collection of the composer's themes with added lyrics describing aspects of his life and work. The themes include excerpts from some of his very famous and not-so-famous compositions, as well as one theme by another now largely forgotten composer, which Beethoven used for a set of variations.
The aim of the work is to introduce children to Beethoven's music and life in an enjoyable and unthreatening way. The lyrics allow for an expanded discussion of his life, and the short, interconnected themes are easy for the children to assimilate. The memory of these famous and beautiful melodies also gives children an easy mode of access to the longer and more complex works from which they come. At the same time, the length of this musical journey (about eight minutes) can help children's attention span and attitude towards major musical works.
The children singing OH, BEETHOVEN! are the entire Year 3 cohort from Ainslie Primary School, in Canberra. The school has a strong music program, supported by a local tertiary institution. Otherwise, these children are no different from any other average group of eight- to nine-year-olds. As part of their regular music lessons, the children have been encouraged to 'sing out' with enthusiasm and passion, rather than taught to worry principally about 'correctness' and 'good' intonation. OH, BEETHOVEN! was learned and spontaneously memorised over four or five half-hour music lessons.
---
The DVD was produced in 1999, and was re-released in a new edition in 2009 with an enhanced menu including an option for subtitles for the song to make it easier for listeners to follow the lyrics. The DVD is also accompanied by a CD to assist with rehearsals, and two booklets: one containing the lyrics and piano accompaniment, and the other consisting of detailed Teaching Notes to assist in classroom use. The CD and booklets are free with each DVD purchase.
---
Click here to download OH, BEETHOVEN! trailer: www.youtube.com/watch?v=FDq7iIQmzKk
Permalink: https://www.roninfilms.com.au/feature/628