DOON SCHOOL CHRONICLES
Year: 2000
Classification: Exempt - Ronin Recommends: G
Runtime: 140 min
Produced In: Australia
Directed By: David MacDougall
Produced By: David MacDougall
Language: English subtitles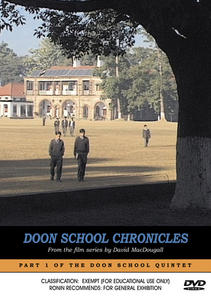 price includes GST and postage

PART 1 OF THE DOON SCHOOL QUINTET
Filmed over a two-year period by David MacDougall, this film looks at the life of Indian middle-class boys as they experience the effects of institutional, national, and global pressures during the transitional years from childhood to adulthood.
The film explores the 'social aesthetics' and ideology of the school through its rituals, the physical environment it has created, and its effects upon several boys of different ages and temperaments. It is divided into ten 'chapters,' each headed by a text taken from school documents.
VIEW TRAILER HERE: vimeo.com/670531339
"An extraordinarily insightful and intimate exploration of the social and cultural landscape of India's most elite boys' boarding school. In following the boys' daily routines and dramas, the film also affords us a rare glimpse at processes of postcolonial Indian identity formation. This is a wonderful teaching tool that will enhance any course dealing with issues of adolescence, education, institutional structure and 'habitus,' or postcolonial elites. My students were stupefied by the eloquence, independence, and maturity of the Doon School boys." - Lucien Taylor, The Film Study Center, Harvard University.
"Without doubt the Doon Project will provide plentiful material for discussion of such matters as the place of such a school in a democratic society; the acculturation of children; identity in its old sense versus 'identity' in its new sense of national or cultural conformism; how an elite perpetuates its values; or, at a more experiential level, how we may each position ourselves in relation to the machineries of social constraint. Nevertheless, simply to call these anthropological films would, while true, be a little like calling [Chinua Achebe's] Things Fall Apart an anthropological novel. They are major contributions to our screen culture, and deserve to be seen well beyond the confines of the discipline." - Dai Vaughan, Visual Anthropology.
ALSO AVAILABLE FROM RONIN FILMS IN THE DOON SCHOOL QUINTET
PART 2 - WITH MORNING HEARTS
PART 3 - KARAM IN JAIPUR
PART 4 - THE NEW BOYS
PART 5 - THE AGE OF REASON
Related files
Permalink: https://www.roninfilms.com.au/feature/526