UPSTAIRS DOWNSTAIRS (Family Foibles)
Year: 2001
Classification: Exempt - Ronin Recommends: G
Runtime: 27 min
Produced In: Australia
Directed By: Donna Swan
Produced By: Steve Thomas
Language: English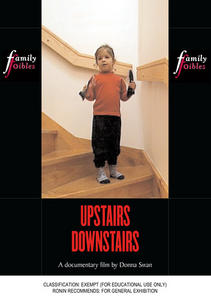 price includes GST and postage

Family Foibles is a series of five half-hour documentaries that examine contemporary Australian families. Each story revolves around a family confronting a problem. These range from the relatively benign issue of omission in the telling of a family history to domestic violence and the threat of family break-up.
UPSTAIRS DOWNSTAIRS
Harald and Louise are doing things differently. After their 14-year relationship broke up during the first 18 months of their daughter Sophia's life, they decided that to stay together 'for the sake of the kids' was wrong.
Determined not to break up the family home, they have converted their house into two self-contained living areas and 3-year old Sophia moves between them. This is no ad hoc arrangement but one carefully controlled by a 50:50 roster of single-but-equal parenting.
However, their friends don't seem to believe they've broken up! While Louise and Harald are optimistic about their experiment, they don't underestimate the challenges to making it work.
The other 4 episodes in the FAMILY FOIBLES series are: KIM & HARLEY & THE KIDS, MICK'S GIFT, MY MOTHER NANCY and THE WOODCUTTER'S SON.
Related files
Permalink: https://www.roninfilms.com.au/feature/449