DELINQUENT ANGEL
Year: 2001
Classification: Exempt - Ronin Recommends: G
Runtime: 48 min
Produced In: Australia
Directed By: David Blackall
Produced By: David Blackall
Language: English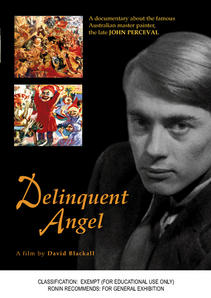 price includes GST and postage

A documentary about the famous Australian master painter, the late John Perceval. Tender and beautiful moments in the film reveal details about John's life, his loves and his relationships - with his minder/business manager, and other internationally renowned painters like Joy Hester, Sir Sidney Nolan and Arthur Boyd.
John Perceval was born in 1923 in the remote wheat fields of Western Australia. While John was still very young, his mother left his father for a more glamorous socialite life in Melbourne and eventually took their two children with her.
John caught poliomyelitis at the age of 15 and started to paint like a master from that time.
The filmmaker, David Blackall first met John when visiting him in a mental institution in 1983. At the time David was in a relationship with John's youngest daughter, Alice.
Later, David Blackall decided to make a film about John's life and works. Unaccustomed to probing cameras, the old master was known to send them packing. In the case of Blackall's filming over six years, it may have been due to the fact that the two were distantly related through Alice, that they were able to put up with each other throughout the process.
The documentary shows a great deal of Perceval's painting, drawing and ceramics. This is punctuated by cinema verite of the most direct and personal nature.
Permalink: https://www.roninfilms.com.au/feature/684