SHAKE RATTLE & ROLL
Year: 2005
Classification: Exempt - Ronin Recommends: PG
Runtime: 52 min
Produced In: Australia
Directed By: Andrew Wiseman
Produced By: Andrew Wiseman
Language: English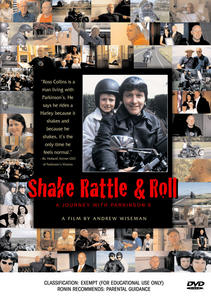 price includes GST and postage

Prior to diagnosis, Ross Collins was a Detective Sergeant with the Victoria Police working in the Major Fraud Group. As a result of his illness, he left the police force and, while his wife Margaret went back to full-time work as a nurse in an emergency ward, Ross took care of the house and their two children, Madeleine and Jack.
Soon after filming began on this documentary, Ross father (a general practitioner) gave a book to Ross about a healer who works out of a small town in central Brazil. Accompanied by his father and with Margarets blessings, Ross made the trip.
SHAKE RATTLE & ROLL charts the course of the journey taken by Ross over the next eighteen months revealing his desperate desire to tackle his condition and the complex interaction between his disease and his family relationships.
We trace his steps as he makes the first trip to Brazil and then, buoyed by the positive gains he received there, we see his actions to take further trips to Brazil.
Through the words, actions and beliefs of Margaret, Ross and his father, this documentary explores how western medicine, complementary medicine and faith strive and struggle to co-exist.
SHAKE RATTLE & ROLL is an intimate portrayal of a family under great pressure and a rare and honest portrait of one man on a journey into an uncertain future.
"Ross Collins is a man living with Parkinson's. He says he rides a Harley because it shakes, and because he shakes, it is the only time he feels normal." - Ric Holland, former CEO of Parkinson's Victoria.
WINNER! Best Human Story in a Documentary, 2005 ATOM Awards
Related files
Permalink: https://www.roninfilms.com.au/feature/514