DEADLY YARNS 3
Year: 2007
Classification: Exempt - Ronin Recommends: G
Runtime: 34 min
Produced In: Australia
Directed By: Various
Produced By: Various
Language: English + English subtitles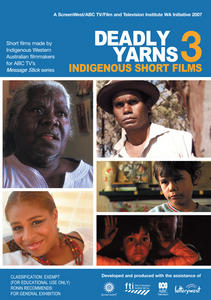 price includes GST and postage

BOLLYWOOD DREAMING (7.49)
Writer: mitch torres | Director: Cornel Ozies | Producer: Dot West & mitch torres
Jedda Rae Hill is a 16 year old Aboriginal Afro American girl who skates, boxes, has done some acting and dreams of one day going to Bollywood to star in a Bollywood movie alongside Aishwarya Rai – one of India's famous Bollywood film stars – 'any role will do' she says.
---
KARLA (7.10)
Writer: Karrie-Anne Kearing | Director: Karrie-Anne Kearing | Producer: Naomi Ashcroft
Karla tells of a time when the Nyungar had no fire to cook his meat because the moon kept the fire for himself, this was in the nyitting times. (The icy cold times). The film explores this concept through the use of renowned Nyungar practitioners of art, dance, song and the ancient art of story telling. This story will be revived and renewed for the future generations to come. This story was recorded by Anthropologist Daisy Bates from George Winjan around 1900.
---
WHO PAINTIN' DIS WANDJINA? (8.04)
Writers: Taryne Laffar | Director: Taryne Laffar | Producer: Janine Boreland
Anonymously a non-Indigenous grafitti artist speaks about hundreds of 'Wandjina' stencils and grafitti around the city of Perth, Western Australia. Traditional owners of the sacred Wandjina- an ancient creator spirit, respond and explain the inappropriateness of this being grafittied without 'proper' knowledge.
---
WRONG WAY (7.14)
Writer: Mandy Corunna | Director: Mandy Corunna | Producer: Irma Woods
This is a story of love – how a couple of young teenagers fell in love, only to discover they couldn't be together without turning their backs on their Aboriginal families and traditional laws.
---
YOU'RE NOT PLAYING THAT! (4.33)
Writer: Kelli Cross | Director: Kelli Cross | Producer: Irma Woods
A father's joy at watching his beloved footy team Carlton in the 1982 Grand Final is turned into shock and disbelief when his son tells him he wants to play rugby.
---
Follow links to other DEADLY YARNS series:
DEADLY YARNS
DEADLY YARNS 2
DEADLY YARNS 4
or buy the complete package - BUY 3 GET 1 FREE - www.roninfilms.com.au/video/819/20/2415.html
Permalink: https://www.roninfilms.com.au/feature/2201