CHILD'S EYE, THE
Year: 2018
Classification: G
Runtime: 147 min
Produced In: India and Australia
Produced By: David MacDougall
Language: Hindi, Mewari, Marwari, Bengali, and Ladakhi with English subtitles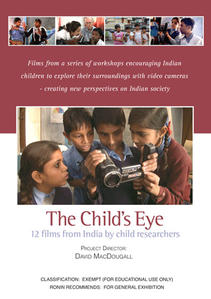 price includes GST and postage
AVAILABLE ONLY ON DVD! Through a series of workshops across India, documentary filmmaker David MacDougall sought to empower young filmmakers to engage directly with the world around them, using cameras to interrogate and explore what they saw, from their own unique child's perspective. In the process, the children were encouraged to create content over which they had ownership, rather than feel they had to follow directions or examples from adults. The ideas employed in India were intended to apply to other contexts, including media courses in Australian schools.
We strongly recommend the ATOM study guide which discusses these ideas further. It can be accessed for free download by scrolling down to the link on this page.
---
The Child's Eye is the result of a five-year project conducted by David MacDougall that encouraged Indian children to explore their surroundings using video cameras. In six workshops held in different locations across India, children became active contributors in creating new knowledge, often on subjects they knew better than adults. Through the children's interests and keen observation, these films give us a unique child's-eye perspective on important aspects of modern Indian society.
The workshops ran for 6 to 12 weeks each and involved children aged from 10 to 13. They came from a variety of class and religious backgrounds in both rural and urban locations, from New Delhi to Rajasthan, Kolkata to Ladakh.
Organised as research projects, the workshops encouraged children to choose topics they considered important in their own families or communities. After several weeks of basic instruction in using video cameras, they began using them to explore their chosen topics, producing 24 films from which the 12 on this DVD were selected. The project offered the children a chance to investigate subjects that are often known only from an adult perspective, a remit they embraced with enthusiasm.
"One of the surprises was the sheer variety in the ways the children used the camera. I had expected them to imitate the models they found on television and in Bollywood cinema. But perhaps because we were asking them to do something quite outside their usual experience – to film the reality of their own surroundings, and to use the camera as an exploratory tool – I was constantly struck by the originality of their approach. In a sense, they seemed to be reinventing filmmaking as they went along." - David MacDougall
Related files