LOOKING FOR LIGHT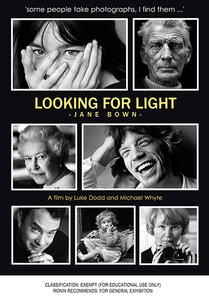 price includes GST and postage

"Some people take photographs. I find them." - Jane Bown
For almost six decades Jane Bown (1925-2014) worked for the Observer newspaper in London, and became renowned for insightful, highly individualistic portraits of the famous. Some of these portraits are now regarded as classics of the genre - Samuel Beckett, Queen Elizabeth, the Beatles, Bertrand Russell, Mick Jagger, Margaret Thatcher, Bjork, Elia Kazan, Eartha Kitt, Boy George, and countless more. It was central to her work that she rarely chose her own subjects but was generally on assignment by the Observer, photographing people she was told to photograph.
Bown's great mantra was: 'photographers should neither be seen nor heard'. Diminutive in stature and with an all-important ability to blend into the background, she was the antithesis of the Fleet Street, macho photojournalist. An economy informed everything she did - she never employed assistants or props, she carried her cameras in a shopping basket, and worked almost exclusively in black and white. Her approach was supremely low-tech: like Cartier-Bresson, she was profoundly uninterested in camera technology - she used Olympus OM1s from the early 1970s, exclusively.
Bown never stage-managed her subjects and preferred to shoot in available light. Instead of using a light meter, she gauged the camera settings by the way daylight fell on the back of her hand. Many of her best shots were taken in just a few minutes with the subject.
Her uncanny ability to coax a wonderful portrait from even the most unwilling subject had its origins, as this film demonstrates, in a troubled childhood. Reared by a succession of aunts, Bown never knew a real home and from an early age developed the characteristics that would inform her art throughout her long career: vigilance, watchfulness, nimbleness, and tenacity. If her camera gave her a means of negotiating the world, the Observer became her first real home.
---
"An affectionate documentary profile of the British photo-journalist and portrait photographer, Jane Bown - a self effacing eighty-something with a gift for getting out of the way and focusing on her subject." - The Independent (London)
"Her black and white pictures still zing with clarity... this shy, self-effacing visual genius." - The Times (London)
"A beautifully paced and tender film ... Bown, who appears pure Home Counties stock in accent and demeanour, is
revealed as anything but." - The Times (London)
---
DVD extras include interviews with Edna O'Brien, Rankin and Sean O'Hagan
---
See excellent article by Richard Johnstone about the film and about Jane Bown in Inside Story: insidestory.org.au/ah-yes-there-you-are
---
Permalink: https://www.roninfilms.com.au/feature/12404