COOLBAROO CLUB, THE
Year: 1996
Classification: G
Runtime: 55 min
Produced In: Australia
Directed By: Roger Scholes
Produced By: Lauren Marsh, Penny Robins, Steve Kinnane
Language: English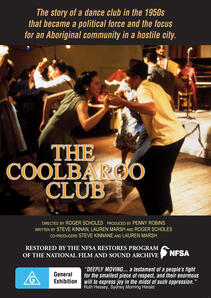 price includes GST and postage

The Coolbaroo Club was the only Aboriginal-run dance club in a city which practiced unofficial apartheid, submitting its Aboriginal population to unremitting police harassment, identity cards, fraternisation bans, curfews, and bureaucratic obstruction.
During its lifetime, the Club attracted Black musicians and celebrities from all over Australia and occasionally from overseas - among them Nat "King" Cole, Harold Blair and the Harlem Globetrotters. Although best-remembered for the hugely popular Coolbaroo dances attended by hundreds of Aborigines and their white supporters, the Coolbaroo League, founded by Club members, ran a newspaper and became an effective political organisation, speaking out on issues of the day affecting Aboriginal people.
"More shaming than a hundred news stories, this chirpy, dignified and scathing documentary by Roger Scholes does more than just recall a less tolerant time and place. In a modest way, it lifts the lid on postwar relations in this country. Some wonderful interviews with feisty former club members, especially several still remarkably articulate old women. This is a shaming documentary but an educative and surprisingly forgiving one. A COPY SHOULD BE OBTAINED BY EVERY SCHOOL IN THE COUNTRY." - Robert Drewe, Sydney Morning Herald, July 1996.
Directed by Roger Scholes, in collaboration with Aboriginal historian and author, Steve Kinnane.
Related files
Permalink: https://www.roninfilms.com.au/feature/484