LAST STAND AT NYMBOIDA
Year: 2010
Classification: Exempt - Ronin Recommends: G
Runtime: 56 min
Produced In: Australia
Directed By: Jeff Bird
Produced By: Diane Michael, Kerry Herman
Language: English
Website: www.nymboidadoco.com.au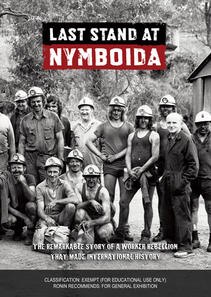 price includes GST and postage

An extraordinary film that captures the Australian spirit of mateship and determination.
Hidden beneath the remote Nymboida Valley in Northern New South Wales, a tough band of local men laboured in the dark and dangerous tunnels of Australia's most primitive coal mine. Faced with the sack in 1975, these men staged a daring worker rebellion. Forged in solidarity and mateship, it was a rebellion that would be tested by doubt and disaster - and ultimately bring about a victory of international significance.
Mineworkers Trust - The Mineworkers Trust is a legacy of the Nymboida miners. Since its establishment in 1991, the Trust has donated millions of dollars to local communities, including hospitals, schools, scholarships, youth and sporting groups, emergency services, welfare groups, as well as cultural and historical projects.
Narrated by William McInnes.
---
GROUP BRAVERY CITATION in the 2012 Australian Bravery Awards
Awardees comprise men who attempted to rescue a colleague following an explosion in a mine at Nymboida, New South Wales on 12 January 1976. Mr Ian Gordon CARTER, Mr Neil William McLENNAN, Mr Trevor John McLENNAN and Mr John James TAPP, deceased. At approximately 3:00pm on 12 January 1976, an explosion occurred at the Nymboida colliery, located about 40 kilometres west of Grafton. The explosion occurred about 370 metres along the tunnel when gas and coal dust ignited as the men were preparing to blast the coal face in readiness for digging the following day. Four badly injured miners managed to stagger themselves to near the mine entrance where they were met and assisted by their colleagues. Conscious that one miner had not emerged and, aware that a rescue team was hours away, several miners entered the burning mine to rescue their colleague, and found the young man deceased at the seam coalface. Two other miners also entered the mine and helped to carry the body outside. For their actions, the recipients are recognised by the award of the Group Bravery Citation.
---
"A first class film that bears witness to a group of men and women who fought for what they believed in." - JOHN PILGER
"An emotional and gripping yarn documenting a significant, and often overlooked, moment in Australian Labor history." - TOM ZUBRYCKI
---
WINNER! 2012 HDFEST Deffie Award for Best HD Documentary Feature, USA
WINNER! Orson Welles Award for documentary, 2011 California Film Awards
WINNER! Platinum Reel Award for Documentary, 2011 Nevada Film Festival
WINNER! Gold Award, 2011 Oregon Film Awards
Best Documentary Feature, Best Director and Best Screenplay, 2011 Cincinnati Film Festival
Best Documentary Directing [Jeff Bird], 2011 Colorado Film Festival
WINNER! Golden Ace Award, 2011 Las Vegas Film Festival
WINNER! Special Jury Remi Award, Film & Video Division, 44th WorldFest International Independent Film Festival, Houston, USA
WINNER! Award of Excellence [short documentary] and Award of Merit [history], 2011 INDIE FEST
WINNER! Award of Merit [Short Documentary] and Award of Excellence [History], Accolade Film, Television and Videography Competition, USA
Honorable Mention! Columbus International Film and Video Festival
---
Follow this link to view LAST STAND AT NYMBOIDA trailer: www.youtube.com/watch?v=bBpCd3Bep9s
Related files
Permalink: https://www.roninfilms.com.au/feature/4521