MY UNCLE BLUEY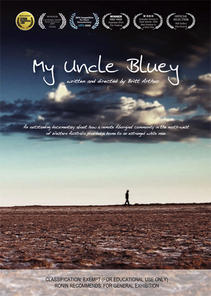 price includes GST and postage

In December 2005 Britt Arthur heard the news that her Uncle Robert was dead. No-one in the Arthur family had spoken about Robert in the preceding 30 years. He was the black sheep of the family, he would argue, he owed everyone money and before he left he actually pulled a gun on Britt's dad.
At least that is what Britt had heard...
When it came to Robert, Britt hardly knew what to believe. She was too young to remember him being around. But as she grew older, an interest in discovering her long lost uncle became clear. She wanted to know who he was, and where to find him.
The unfortunate phone call just before Xmas had ended the chance for Britt to bring her uncle back to the family. And the silence about Uncle Robert remained, even in the time of his death.
Britt's father would be the only member of the Arthur family to make the 1000-mile journey to Robert's funeral, except, of course, for Britt who took her camera along for the ride.
MY UNCLE BLUEY is a personal story about the things that tear families apart, what brings them back together, and how your family is your family. Always.
---
"A very moving personal story ... It's a story with several unexpected twists ... The film has an assured execution and confidence that I admire." - Tom Zubrycki, Documentary Filmmaker.
"Beautifully paced and deeply affecting." - Stefan Moore, Documentary Producer & Director.
"Rarely have I been left feeling as satisfied by a short film as I have by 'My Uncle Bluey'! The poetic search really paid off." - Greg Colgan, Electric Pictures.
---
Official Selection! Edindocs 2010 - Documentary Film Festival.
In Competition for 'Short Documentary' – 22nd International Documentary Film Festival Amsterdam (IDFA) 2009 – International Premiere.
56th Sydney Film Festival (Australia) 2009 - World Premiere.
Australian Director's Guild (ADG) Awards 2009 – Winner 'Best Direction in a Short Film'.
Australian Teachers of Media (ATOM) Awards 2009 - Winner 'Best Documentary Short Subject'.
Canberra Short Film Festival 2009 – Winner 'Best National Short Film'.
Revelation International Film Festival (Australia) 2009 – Official Selection.
Flickerfest (Australia) 2010 - International Documentary Competition.
Pacific International Documentary Film Festival (FIFO - Tahiti) 2010.
Mumbai International Film Festival (India) 2010.
DOXA Canada
DocMiami
Atlanta DocuFest
Atlanta Shortsfest
Permalink: https://www.roninfilms.com.au/feature/3784