PICTURING HOME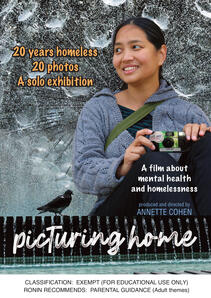 price includes GST and postage

DIRECTOR'S CUT - includes 25 minutes not shown on TV
"Mental health and homelessness need to be talked about together. Resolving homelessness cannot simply be about physical shelter: psychological issues need to be an integral part of the discussion. My intention with PICTURING HOME is to show that by providing mental health support, we can simultaneously help to resolve some of the physical trauma that comes with experiencing homelessness." - Annette Cohen, director
Picturing Home is a story of the importance of home, of human frailty, and ultimately finding connection and hope. The film follows the journey of Jai Jaru, born in Thailand and adopted by a family from Adelaide. Jai escapes to Sydney, but instead ends up homeless on and off for twenty years. One day, Jai is given a disposable camera, which ends up changing her life.
Picturing Home was filmed over three years in inner Sydney. With a community photo competition as the backdrop, the film explores the difficult journey of the homeless through our guide Jai. We learn how she got to where she is, the struggle to fit in to society and how she sees the world through her camera lens. The story culminates in Jai's first solo photography exhibition.
VIEW TRAILER HERE: vimeo.com/539426157
Producer, director Annette Cohen
Co-Producers Marcus Gillezeau, Richard Wilmot
Director of Photography Richard Wilmot
Cinematography Annette Cohen, Eliya Cohen
Writer, editor Marcus Gillezeau
Music Guy Gross
Sound design Damian Jory
Executive Producer Ellenor Cox
Produced with support from FujiFilm, the City of Sydney, and the Documentary Australia Foundation.
Related files
Permalink: https://www.roninfilms.com.au/feature/17279