NO BURQAS BEHIND BARS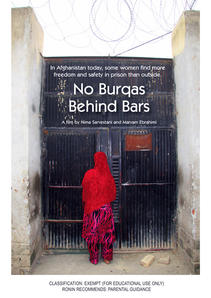 price includes GST and postage

Women are normally faceless in Afghanistan: outside the home, burqas cover them from head to toe. The all-encompassing burqa completely masks their identity, rendering Afghan women invisible. But in prison, they sometimes have more freedom and safety than outside.
Filmed in the female section of Takhar Prison in Afghanistan, NO BURQAS BEHIND BARS closely follows three women, who after fleeing abusive households or arranged marriages, have been jailed for 'moral crimes'. Four prison cells house 40 women and 34 children, but paradoxically prison becomes a refuge, a place where they can safely express their longings, desires and hopes for the future. Against a harsh landscape of bars and barbed wire, directors Nima Sarvestani and Maryam Ebrahimi gain unprecedented access to this hidden world, in which these women learn to live together and make a home for themselves and their children.
Sima, married at ten, with five children by the time she was 20 years old, is locked away together with her children for 15 years. Her "crime"? Fleeing from an abusive husband, who had already murdered one of his other wives and their child. Sara, Najibeh, Latife, and many more names – all carry stories that are testament to their inner strength and dignity.
This extraordinarily intimate observational documentary was made under difficult conditions but with the full co-operation of the women and prison officials. It has been heralded at numerous international film festivals and has won many awards.
"My journeys to Afghanistan have opened my eyes to the power that is hidden underneath the burqa. Young girls and women who run away from their male owners are quite aware of the risk it entails for their lives. Yet, they risk their lives in order to try and achieve freedom. These women have never heard of things such as human rights or emancipation. Still, they act against the cruelty that they are suffering and the men who are abusing them. They do this in a way that signifies how important their self-determination is for them. There is an ocean of power underneath the burqa. If only the women of Afghanistan could get rid of the burqa, and if only they could achieve a relative safety in society, this power would be released and change their lives and then change society once and forever."
- Nima Sarvestani, co-director
WINNER! 2014 International Emmy Award for Best Documentary
WINNER! 2014 Prix Europa for Best European TV Documentary
Permalink: https://www.roninfilms.com.au/feature/10530