Maryam Ebrahimi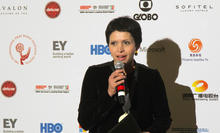 Maryam Ebrahimi was born in Tehran Iran, 1976. She studied at the Art University of Tehran and continued her education at the university of Konstfack in Stockholm, where she now lives and works.
Maryam has produced several feature documentaries:
"I Was Worth 50 Sheep" (2011), a tragic story about the selling of young girls in Afghanistan in the name of marriage, for a piece of land or sheep.
"No Burqas Behind Bars" (2012), her second documentary, showing how moral crimes are used to control women in post-Taliban Afghanistan. The film was shot under a long period of time inside a women's prison.
In May 2015, she was actively filming a new feature documentary - " Stronger than a Bullet", a film about war and propaganda.
Filmography
| | |
| --- | --- |
| | Women are normally faceless in Afghanistan: outside the home, burqas cover them from head to toe. The all-encompassing burqa completely masks their identity, rendering Afghan women invisible... |