ACROSS THE PLATEAU
Year: 2007
Classification: Exempt - Ronin Recommends: G
Runtime: 95 min
Produced In: Australia/China
Directed By: Paul Liu, Zhang Zeming
Produced By: Harriet Pike, Andrew Pike
Language: Cantonese + English subtitles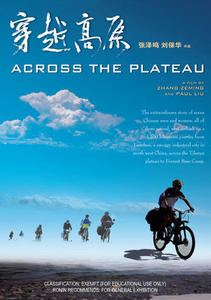 price includes GST and postage

WINNER! SPECIAL AWARD FOR BEST FILM at the 7th Ya'an Panda Natural History Documentary Film Festival in China, 2014!
---
China used to be called "the Bicycle Kingdom". This is a bicycle story from China, about a group of friends in southern China who share cycling treks of epic scale. Their adventures are an expression of their sense of personal freedom in the new China, after a lifetime of political turmoil and personal struggle.
This is the extraordinary story of seven retired Chinese men and women who embark on a 3,100 kilometer cycling journey from Lanzhou, a smoggy industrial city in northwest China, across the Tibetan plateau to Everest Base Camp. Among the cyclists are a veteran explorer and stroke survivor, a soldier-turned-musician, an inventor with a car parking system patent under his belt and a first-generation rubber factory worker who has just recovered from a year-long poison-induced paralysis. The seven cyclists all survived traumatic experiences during the Cultural Revolution, and their life experiences contribute to their determination and stamina in tackling adventures late in life. From their stories, we witness how they find fulfillment by undertaking a gruelling personal challenge.
Chinese title: Chu an Yue Gao Yuan
---
View trailer here: vimeo.com/265508329
---
Official Selection! Vladivostok International Film Festival (Russia) 2009
Official Selection! Adelaide Film Festival (Australia) 2009
Official Selection! Kathmandu International Mountain Film Festival 2008
Official Selection! Revolve Film & Music Festival (USA) 2008
Official Selection! Globians Film Festival (Germany) 2008
Official Selection! Tiburon International Film Festival (USA) 2008
Official Selection! Sao Paulo International Film Festival (Brazil) 2007
Official Selection! Rhode Island International Film Festival (USA) 2007
---
The extraordinary story of seven Chinese men and women, all of them retired, who embark on a 3,100 kilometre cycling journey from Lanzhou, a smoggy industrial city in north west China, across the Tibetan plateau to Everest Base Camp.
Seven retired Chinese from different backgrounds and life experiences come together to form a cycling team. They take an extraordinary journey from the industrial city of Lanzhou in north-west China, across the Tanggula Mountain and Tibetan plateau to Lhasa and finally to the Everest Base Camp. The whole journey is 3,100 kilometres and takes the cyclists across five mountains with altitudes of over 5,200 metres. After conquering countless difficulties, they eventually realise their long-cherished dream, to cross the Roof of the World on bicycles.
Among these seven, the oldest is 66, a man who had a brush with death when he suffered a stroke. Another was left paralysed for a year after being poisoned in an industrial accident. There are two women among the team. All come from Guangzhou, the metropolis in southern China also known as Canton, and the first city to open to the outside world under Deng Xiao Ping's reforms. In the highly commercialised city, people have changed significantly over the last twenty years. Lives are dominated by materialism and the quest for wealth, a sharp contrast to the Maoist days. But these seven men and women are looking to find fulfillment by setting themselves a gruelling personal challenge.
Co-director Zhang Zeming emerged in the mid-1980s as one of the leading new talents in southern China with his ground-breaking debut feature, SWAN SONG (Juexiang, 1985). ACROSS THE PLATEAU is one of his most rewarding films – visually spectacular and rich in emotion and strong characters. The seven cyclists all survived traumatic experiences during the Cultural Revolution, and their life experiences contribute to their determination and stamina in tackling their adventures late in life. From their story, we glimpse China's past and present, and in particular the changing culture of the people.
---
"It is a rare documentary that manages to give deep insights into the motivations and forces governing the lives of the people depicted in it. Not only does ACROSS THE PLATEAU manage to do this, but it tells its story beautifully (and without artifice) against the backdrop of the thousands of kilometres of the changing Chinese landscape that the cyclists take us through. This is accomplished thanks to the painstaking, patient and sensitive work of the director, and the most brilliant editing I have seen in a documentary in years.
This is no ordinary 'human triumph in nature' documentary. It is about the individual human spirit and how people take on challenges in order to express it."
- Roger Pulvers, screen-writer, playwright, essayist.
---
"The 2007 Tour de France is inviting viewers to 'watch proper tough guys' as the cyclists ride across coutries, and up and down mountains for three weeks. But those guys do it with support vehicles, and all manner of backup. So if you want to watch proper tough people, cycling across thousands of kilometres of uneven terrain; in rain, mud, snow, cold, and carrying their own provisions; then journey with them for 43 days, Across the Plateau.
These middle aged Chinese folk, most of whom have medical conditions that would have stopped Hannibal's elephants crossing the Alps, make it to the base camp of Everest, in one of the most endearing documentaries I have ever seen.
Wisely avoiding both an on screen and voice over narrator, it seems at times, as though the camera itself is gently cycling alongside the film's characters; observing them and the landscape.
Watching from my elliptical cycle, stationery in my lounge room in front of the fireplace and telly, this film has inspired me to pedal more frequently, and faster, for my own health and spiritual well-being."
- Marilyn Dooley, Film Archivist, Film Historian and Film Critic.
---
"Across The Plateau reminds us of the importance of riding a dream. A journey through misted mountains, wind storms and breath-taking scenery, an authentic and humorous quest punctuated by the musicality of China's mysterious history. This film is a celebration of human spirit, and our capacity to make dreams come true." - Claire Young, Filmmaker.
---
"Across the Plateau is the story of a cycling odyssey undertaken by seven Chinese from different walks of life but all victims in some way of the New "To Get Rich is Glorious" China. Redundant, early retired or poisoned by workplace negligence, they don't accept their place on the scrap heap and take on a gruelling journey that challenges them as it inspires the viewer. Some of them make it to the end and some don't, but all seven give all and more to the effort. Across the Plateau will encourage you to dust off your dreams and embark on your own odyssey. On'yer bike!" - Dr Robin McLachlan, historian, playwright.
---
"I found Across the Plateau an absolutely engrossing experience. It is a deceptively simple film - the quest of a group of retired Chinese men and women testing body and spirit to the limits on a bicycle journey in the Himalayas. But so beautifully crafted and subtle is the work of director Zhang Zeming that on the way the cyclists carry the viewer to quite unexpected places: an appreciation of the debilitating effects of the Cultural Revolution that crippled a generation; the explosion of the silly myth of the "inscrutable Oriental"; and most surprisingly, the warm relationships that have developed between Chinese and Tibetan people. As unpretentious as the "hotel" stopovers on the Tibetan plateau, and as raw as the icy winds that torture the riders, it is truly a journey worth the taking." - Robert Macklin, author.
---
"It was only after the credits rolled and I came back to my surroundings, that the literally breathtaking achievement of this beguiling documentary and its subjects, really struck me. Across the Plateau follows seven Chinese cyclists, all retired, on their epic 3,100 kilometer trip over 5,200 meter peaks, across the Tibetan plateau, through Lhasa, ending at Everest Base Camp. None of the group is a professional rider, all have overcome extreme obstacles in their lifetimes. They also reveal themselves in seamlessly edited interview sequences, as quiet, gentle, funny, and astonishingly intrepid: far from ordinary, ordinary people. Across the Plateau gives us a vivid glimpse of our shared humanity within the context of both the near-volcanic growth of modern China, and the austere tranquillity of the most remote Himalayan vastness. This is utterly absorbing and unforgettable film making." - Hilary Furlong, Filmmaker.
Related files
Images
Permalink: https://www.roninfilms.com.au/feature/769