BALI TRIPTYCH
Year: 1988
Classification: Exempt - Ronin Recommends: PG
Runtime: 174 min
Produced In: Australia
Directed By: John Darling
Produced By: John McLean
Language: English and English subtitles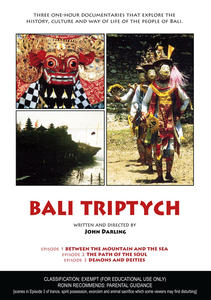 price includes GST and postage

Three one-hour documentaries that explore the history, culture and way of life of the people of Bali.
Episode 1: BETWEEN THE MOUNTAIN AND THE SEA
Covering an enormous scope of history, this film explores the geological and cultural influences which have contributed to the evolution of Balinese cosmology. Linked to religions in ancient China and India, Balinese religious life is dominated by ancestor worship. The film also narrates the turbulent history of the Balinese people from the first arrival of Europeans, the conquest of the Dutch, an ensuing history of warfare and resistance, and finally being absorbed into Indonesia after World War Two.
Episode 2: THE PATH OF THE SOUL
This film explains the beliefs and rituals of the Balinese people throughout their life cycle, to achieve a balance between man, nature and the spiritual world. The film depicts both childbirth and death rituals, and focuses on the training and work of priests and the role of temples in every aspect of daily life.
Episode 3: DEMONS AND DEITIES
Village temple festivals, involving sacred dances, ritual trances, animal sacrifices and other religious community activities are part of the shared responsibility to appease the perceived chaotic elements of nature.
---
"This kind of insight and loving treatment is a rare treat on television." - Diana Simmonds, Sydney Morning Herald, 24 Sept 1988.
"One of the most elegant, scholarly and beautifully made documentary series you're likely to see." - Phillip Adams, Weekend Australian, 17-18 Sept 1988.
"A series of such intensity, richness and privileged access into Balinese lives and rituals - many never previously filmed - that it becomes a cornucopia of cultural, spiritual and mystical richness." - Janet Hawley, Sydney Morning Herald, 19 Sept 1988.
---
John Darling (1946-2011), filmmaker, writer, historian, poet and painter, lived and worked in Bali for some 20 years. In his BALI TRIPTYCH he looks at Bali's dramatic history from ancient animistic times, through the Dutch conquest, to the present. He particularly explores the significance of rituals and dance in a country where the religion and culture is dominated by ancestor worship and the need to pay homage to demons and deities. The three films in the series were shown on ABC television and were highly acclaimed.
Beautifully filmed and meticulously researched, this series is essential for anyone seeking to understand the rich and complex culture of the Balinese people. The series includes rarely seen archival footage from the 1930s by Margaret Mead and Gregory Bateson.
---
Follow this link to view the BALI TRIPTYCH trailer: www.youtube.com/watch?v=YOaLguljP2A&feature=youtube
---
Permalink: https://www.roninfilms.com.au/feature/6866