ALL ABOUT OLIVE
Year: 2005
Classification: Exempt - Ronin Recommends: PG
Runtime: 55 min
Produced In: Australia
Directed By: Mike Rubbo
Produced By: Mike Rubbo
Language: English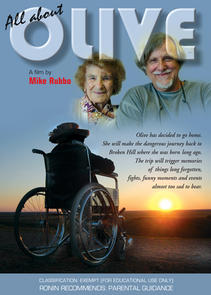 price includes GST and postage

Olive's family name was Dangerfield and her hair was red. Coming home from school together, this Katie Raven would sing out; "Red for danger! Danger on the field!" "I'll show you danger," Olive grunted one day, winding up her arm.
"I gave her a beautiful punch, right on the jaw." Olive's fist smacks into her hand to show the blow. "Oh, Jees, she fell and never rose up. I'd knocked her out! Well, the police came to Mum who was never on my side, by the way. They said, if it happens again, she's off the reform school. They theatened to put me away!"
They didn't put Olive away and there is not much danger now. The punch must have landed in 1911 since Olive was 12 at the time. Landed in another era too, for who would boast of dealing with a bully today that way?
Mike Rubbo's team found and made friends with this amazing story teller 4 years ago. He was researching a documentary on the centenarian phenomenon. But when he met Olive, all thoughts of an essay on extreme old age went out the window and Olive took over. So much so that Mike gives this outrageous old lady a co-directing credit and lets her take charge in recreating her life. Imogen Semmler, the assistant director, becomes close to Olive as well.
All about Olive is a journey film, a trip back to Broken Hill in the red heart of Australia where Olive Riley was born in 1899. Broken Hill was a tough mining town in those days and Olive, a tough girl. When her first husband cheated on her, she left him without a qualm, her three kids in tow.
But it's also a touching story for Olive relives things on the journey, events in her past, like the death of beloved elder sister, Emma, which still profoundly upset her after 100 years. It is the finding of Emma's long-lost grave that finally brings some balm to that old wound.
All About Olive was one of the most successful documentaries on ABC TV in recent times. Viewers were drawn to the unquenchable spirit, the life force of this blunt old lady, and came away strangely moved, looking ahead to their own distant years with new and more hopeful eyes.
Mike Rubbo is one of the pioneers of the personal documentary, and All About Olive is no exception. It is suffused with the warmth of friendship between film team and subject, and seeks to feel as well as to know.
Related files
Permalink: https://www.roninfilms.com.au/feature/645