Mike Rubbo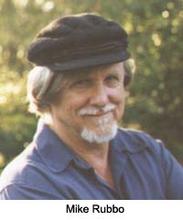 Mike studied Anthropology at Sydney University, and then travelled on a Fulbright scholarship to study Film at Stanford University, California where he got his MA.
For 20 years he worked as a documentary film director at National Film Board of Canada, taking time off to teach between films. He has directed over 40 documentaries, winning many international prizes. His best known docs are Sad Song Of Yellow Skin, Waiting for Fidel, Daisy, Solzhenitsyn's Children. Margaret Atwood, Once in August.
The Little Box that Sings (ABC) made with his wife, Katerina Korolkevich-Rubbo, is his most recent documentary as writer and director prior to Much Ado About Something. His films have been widely shown on TV, and are in the collections of the Museum of Modern Art (MOMA) New York and film schools around the world.
He has been visiting lecturer at NYU, UCLA, Stanford. Univ. of Florida with longer teaching periods at Harvard and the Australian Film, Television and Radio School.
Michael has also directed and written 4 children's feature films including Tommy Tricker and the Stamp Traveller, and the Emmy award winning Vincent and Me. More recently he spent some time as the Head of Documentaries, ABC Television, encouraging Verite and instigating the very popular Race Around the World series.
In the eighties and nineties, he wrote and directed four feature films, of which VINCENT AND ME won a daytime Emmy, a Parent's choice gold medal, as did TOMMY TRICKER and the STAMP TRAVELER.
He returned to his native Australia in 1995 and continued making documentaries, notably, MUCH ADO ABOUT SOMETHING (2000) which proposed that Christopher Marlowe was the real author of Shakespeare's plays. He also made ALL ABOUT OLIVE in 2005, the story of Olive Riley going back to her native Broken Hill where she was born in 1899.
Filmography
| | |
| --- | --- |
| | Olive's family name was Dangerfield and her hair was red. Coming home from school together, this Katie Raven would sing out; "Red for danger! Danger on the field!" "I'll show you danger," Olive grunted one day, winding up her arm... |
| | This lively odyssey into the land of Shakespeare introduces us to a delightful gallery of eccentric scholars who dispute the authorship of the plays... |