MUCH ADO ABOUT SOMETHING
Year: 2003
Classification: Exempt - Ronin Recommends: G
Runtime: 93 min
Produced In: Australia
Directed By: Mike Rubbo
Produced By: Mike Rubbo, Penny McDonald
Language: English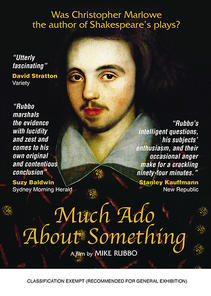 price includes GST and postage

This lively odyssey into the land of Shakespeare introduces us to a delightful gallery of eccentric scholars who dispute the authorship of the plays. It is an expedition into what one author in the film calls "beautiful territory."
In this 2003 documentary, Australian film-maker Mike Rubbo explores the evidence that the plays of William Shakespeare were actually written by Christopher Marlowe, a man supposedly murdered at the peak of his career. But did he die or did he go into hiding and continue to write?
Rubbo garners interviews across the spectrum of the debate: with pre-eminent defenders of the faith like Prof Jonathan Bate and Prof Stanley Wells; with Charles Nicholl, who wrote a compelling account of Marlowe's life and "death"; and with Dolly Walker Wraight who speaks of (and defends) Marlowe as if he were her own son.
Adding colour to the narrative, we hear from the locals: the "country couple" who try their hand at investigation, the Canterbury bookseller whose actress wife is unsettled by talk of conspiracy, the hungry young actors who bring to life the evidence - and a young Mark Rylance.
Along the way, Rubbo's shoot-from-the-hip film style takes us from medieval sites in Italy to the English living rooms of scholars, with good-humour and irreverence, ever-present on and off camera, questioning, provoking and commenting.
---
DVD EXTRA: the DVD includes an 80-minute discussion with director Mike Rubbo about the mysteries surrounding Marlowe and Shakespeare. A fascinating resource!
---
"UTTERLY FASCINATING" - David Stratton, Variety.
"MUCH ADO may prove nothing . . . but an admirer of Shakespeare's plays would have to be in dull mood to be bored by the film. It is a romp, and a highly entertaining one at that. Whatever your position on the authorship issue—and this film may challenge your position––Much Ado about Something is incredibly rich and fun. It has Rubbo's characteristic energy, curiosity, and respectful chutzpah. It is fearlessly inventive in the open way that Rubbo's fans are accustomed to. It bears that stamp of honest creativity characteristic of his best work. Rubbo is a documentary auteur." - D.B. Jones, author of the forthcoming book An Exchange of Valuables: The Documentary Art of Filmmaker Michael Rubbo, (University of Calgary Press).
"MUCH ADO ABOUT SOMETHING is consistent with Rubbo's best work, marked by sublimely idiosyncratic on-screen enthusiasm, dogged persistence and quizzical good humour. The tone and content recall WAITING FOR FIDEL in its relentless pursuit of an elusive subject, and especially the masterwork, SOLZHENITSYN'S CHILDREN, with its wonderful cavalcade of eccentrics." – Andrew Pike, film historian.
"Rubbo marshals the evidence with lucidity and zest and comes to his own original and contentious conclusion" - Suzy Baldwin, Sydney Morning Herald.
"Rubbo's intelligent questions, his subjects' enthusiasm, and their occasional anger make for a crackling ninety-four minutes." - Stanley Kauffmann, New Republic.
---
PRINCIPAL CREDITS
Written, directed, narrated and filmed by Michael Rubbo
Producers – Michael Rubbo, Penelope McDonald
Editor – Jane St Vincent Welch
Production management – Penelope McDonald
Original music – Christopher Gordon
Sound design – Mike Gissing
Developed in association with the Australian Film Commission
Produced in association with Chili Films
Produced with the assistance of the Australian Broadcasting Corporation
Finance with the assistance of the Australian Film Finance Corporation
© The Helpful Eye Pty Ltd, 2001
Related files