TROBRIAND CRICKET
Year: 1979
Classification: G
Runtime: 53 min
Produced In: Australia, Great Britain
Directed By: Gary Kildea, Jerry Leach
Produced By: Gary Kildea, Jerry Leach
Language: Tok Pisin dialogue, English subtitles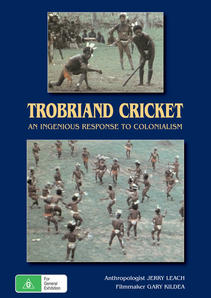 price includes GST and postage

A multi-award winning film, TROBRIAND CRICKET is a fascinating document about cultural creativity among the people of the Trobriand Islands of Papua New Guinea.
Trobriand culture was brought to the attention of the outside world primarily through the work of Bronislaw Malinowski, one of the founders of modern anthropology. The film demonstrates how, over 70 years, Trobrianders have ingeniously adapted the missionary-introduced sport of cricket to the needs of their society, and how this elaborate new ritual has functioned to soften the impact of colonialism.
'One of the greatest anthropological films of recent times.' - Jean Rouch, Film Quarterly.
FILMMAKER GARY KILDEA WINS LIFETIME ACHIEVEMENT AWARD! 2006 Festival Jury of the American Anthropological Association. [download pdf below for more information].
Related files
Permalink: https://www.roninfilms.com.au/feature/605