WOODCUTTER'S SON, THE (Family Foibles)
Year: 2001
Classification: Exempt - Ronin Recommends: PG
Runtime: 27 min
Produced In: Australia
Directed By: Michael Cummins
Produced By: Steve Thomas
Language: English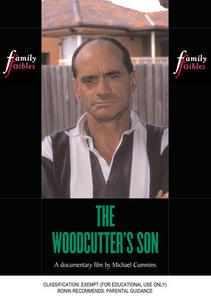 price includes GST and postage

Family Foibles is a series of five half-hour documentaries that examine contemporary Australian families. Each story revolves around a family confronting a problem. These range from the relatively benign issue of omission in the telling of a family history to domestic violence and the threat of family break-up.
THE WOODCUTTER'S SON
Allan is 45 years old and a published poet. At 17, Allan's father told him if he ever went to gaol he would lose his family. Allan became a notorious bank robber and his dad was proved right.
Thirty years later, his father is dead and Allan is seeking reconciliation with his mother and sister. In the meanwhile, he has found substitute families in gaol and latterly at Ozanam Community Centre, where Allan has spent time since his release from Pentridge.
Now he travels back to country Victoria, to the town of his youth, wondering which family he really belongs to - his substitute family of crims and street people who understand him or the biological family to whom he is a stranger.
The other 4 episodes in the FAMILY FOIBLES series are: KIM & HARLEY & THE KIDS, MICK'S GIFT, MY MOTHER NANCY and UPSTAIRS DOWNSTAIRS.
Related files