AGENT ORANGE
Year: 2007
Classification: Exempt - Ronin Recommends: PG
Runtime: 71 min
Produced In: Japan
Directed By: Masako Sakata
Produced By: Masako Sakata
Language: English + English subtitles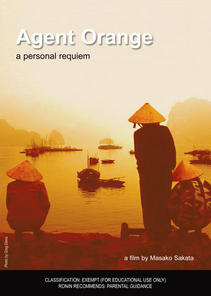 price includes GST and postage

AGENT ORANGE is one woman's personal journey through Vietnam to try to understand the ravages caused by chemicals in the Vietnam War, and to come to terms with her husband's premature death. Her observation of the way in which Vietnamese families and health organisations are coping with ongoing deformities in children, even after all these years, is an extraordinary revelation, deeply moving and deeply disturbing.
Following the death of her own husband, a Vietnam veteran, from exposure to the chemical Agent Orange, the filmmaker visits Vietnam and finds ample evidence of the appalling by-product of chemical warfare waged by the American forces. 12% of the soil of South Vietnam was contaminated with 19 million gallons of defoliants sprayed between 1961 and 1970. 12 million gallons of these were Agent Orange, which contained dioxin, the most toxic chemical invented by man.
The story is confronting and tragic, but it is also one with a positive message. In the filmmaker's own words: "I found the victims everywhere ... Children who were not even born then are suffering today from all kinds of deformities and illnesses. In spite of such physical difficulties and poverty, everywhere I found love, caring, warmth. Meeting the victims and their families helped me with my own healing".
In addition to the filmmaker's own personal journey, the documentary also reveals some of the historical facts that led to the unprecedented ecological disaster of Agent Orange poisoning. It is both an indictment of U.S. foreign policy and corporate greed, as well as a celebration of love's ability to face enormous adversity.
The film is the remarkable debut film by Masako Sakata, and the emotional intensity and honesty of her film distinguishes it from any television report. It has strong relevance for any study of the Vietnam War and the consequences of war trauma, both physical and psychological.
---
Follow this link to view a trailer of this title along with others for use in support of overseas aid programmes: www.youtube.com/watch?v=hl1yF7wgcL4
---
Related files
Permalink: https://www.roninfilms.com.au/feature/523