MY GRANDPARENTS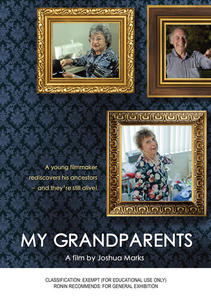 price includes GST and postage

"This marvellous documentary portrays the intimate details of the daily lives of older adults, the meaning, the humour, the challenges, the beauty and resilience. Most significantly for any educator in a secondary or tertiary setting this documentary has been made by a grandchild and therefore is an important bridge between the perspectives of different generations. The loving regard exchanged between subjects and film maker suffuses this remarkable film".
- Michelle Donelly, PhD MA BAppSc,
Occupational Therapy Program
Southern Cross University
---
A cross-generational documentary in which filmmaker Joshua Marks sets out to find out more about his grandparents – what drives them, what fears and hopes they have. Over a two-year period, with a great deal of humour on both sides, they exchange ideas and challenges. It's a journey of awareness in front of and behind the camera. Gradually, we ask who is the real subject of the film, who is really in control?
The minutiae of the grandparents' lives seems initially to loom large. Joshua discovers that these mundane matters and uneventful events can be matters of real importance, even of life and death.
As a study of family dynamics, this good-natured and affectionate film raises issues that have broad relevance beyond the particular individuals involved. My Grandparents makes a valuable contribution to discussions of youth and ageing. It is a charming portrait of three strong characters in their 80s, by a grandson in his 20s. What did the three octogenarians learn in the six decades before Joshua was born – and what have the four of them learnt since?
---
DVD includes Extra Features: Filmmaker Interview (13:06 mins)
'The Strong Will' short film (3:30 mins)
---
Follow this link to view the My Grandparents trailer: www.youtube.com/watch?v=JgPA7diAMsQ&list=UUSqan_EgPVcRlIbhv3v45UQ&index=1&feature=plcp
---