THESE HEATHEN DREAMS: Journey of a Cultural Bolshevik - Christopher Barnett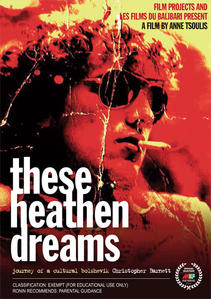 price includes GST and postage

What became of the rabble-rousing, heavy-drinking, radical poet some called Australia's greatest living writer?
Once described by the press as "one of the most controversial figures on the Australian art scene", avant-garde poet and playwright Christopher Barnett achieved a level of notoriety in the Melbourne underground theatre scene during the 70s and 80s, before self-exiling to France. He remains there today, running an experimental theatre lab working with the marginalised and underprivileged, applauded by the establishment (including former French Prime Minister Jean-Marc Ayrault) and faithful to his belief that art can change the world.
These Heathen Dreams is an intimate portrait of Barnett¹s life and revolutionary philosophy. Combining archival footage dating back to the 60s with contemporary observational documentation and text from Barnett¹s writings, it is a poignant and inspiring study of the power of both art and political activism.
---
DVD EXTRAS: IMPROVISATIONS - poetry recital by Christopher Barnett, Nantes, France, 2012 (approx 28 mins)
---
Official Selection - Adelaide International Film Festival
Official Selection - WOW Film Festival
Official Selection - Antipodean Film Festival
VIEW TRAILER HERE: vimeo.com/652755884
Permalink: https://www.roninfilms.com.au/feature/11532