ARNAV AT SIX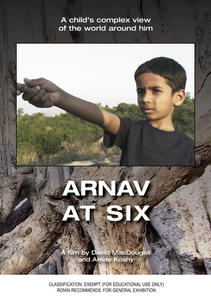 price includes GST and postage

Filmed as a collaborative project between ethnographic filmmaker, David MacDougall, and the six-year old Arnav Koshy, this film explores Arnav's keenly observant view of the complex world around him. Arnav is fascinated by the geology, plant-life, and ecology of the area in which he lives: a dry and rocky region of Andhra Pradesh in South India.
Made in a direct and unobtrusive style, the film is both an engaging interactive encounter between a child and an adult, and a compelling demonstration of Arnav's enquiring mind and his emerging understanding of life.
This delightful and deceptively simple film is a distinctive contribution to the remarkable body of work that David MacDougall has made with and about children in India since his landmark DOON SCHOOL CHRONICLES (2000).
Selected for screening at the "Childhoods in South Asia" Conference, 2013.
Permalink: https://www.roninfilms.com.au/feature/10215