Richard Jasek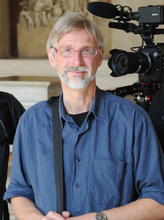 Richard Jasek has been a filmmaker since the age of fourteen. Aged nineteen, he was accepted into the Australian Film Television and Radio School where he majored in direction, and was one of the youngest students ever to have been selected for the program. His groundbreaking graduate production won a swag of awards in Australia and overseas.
After graduating, Richard went on to create further award-winning works including Son of Romeo (a blue screen version of Shakespeare's Romeo and Juliet) as well as corporate, educational and television specials, and short films. He has directed commercial television drama since the nineties and has since clocked up many hours in television direction for a host of shows including A Country Practice, Home and Away, City Homicide, McLeod's Daughters, Neighbours, Stingers, Blue Heelers, Heartbreak High and more.
He wrote, directed, and was creative producer of Driven to Diffraction, which was the first in the five-part documentary series on Australia's greatest scientists. Like Fenner, William and Lawrence Bragg were also great sons of Adelaide, and Richard, a passionate South Australian himself, took to the role with much enthusiasm.
Richard Jasek has truly pioneered a unique way of story-telling in these documentaries. He has cleverly combined dramatisation, high-end computer generated imagery and animations, rare archival footage, goofball animation, and intense interviews with some of the leading minds on the planet, to tell this remarkable story. The result, is a cleverly crafted, thoroughly researched, accurate portrayal of not only a scientist who changed our planet forever, but the life of a very much loved and gentle man, in Frank Fenner.
As a lecturer, Richard has taught at numerous universities and film schools including AFTRS, Flinders University, Griffith University, University of Southern Queensland, and Britain's National Film School.
Filmography
| | |
| --- | --- |
| | "So much I did not know about my hero, Lawrence Bragg! This film is original, fun and unexpected." - Robyn Williams, ABC Science broadcaster... |
| | "I found this film, Microbes to Macrobes, to be fascinating, surprising and very moving. It is a fitting tribute to a great Australian and an internationally renowned scientist"... |
| | BEST DIRECTOR (Richard Jasek), Short Documentary Category, Australian Directors Guild Awards, 2019 A superb film about inspiration, aspiration and the hard facts of life... |