Peter Hegedus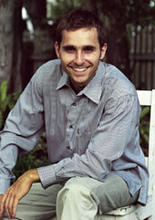 Peter's filmmaking career spans close to 20 years. He has been making films since the age of 17. His critically acclaimed films have won numerous awards around the world and been broadcast in many countries. Peter's work is characterized by a commitment to social justice be they documentary or drama.
In 1998 at the age of 21, he embarked on Grandfathers and Revolutions, a one hour documentary about his grandfather, the Prime Minister of Hungary who called in the Soviet troops to quash the Hungarian Revolution in 1956. The film established Peter as an international documentary filmmaker.
After starting his production company Soul Vision Films Pty Ltd, Peter made Inheritance, a fisherman's story based around an ecological disaster that occurred in Hungary in 2000. The film follows the life of a fisherman Balazs Meszaros who struggles to survive after the disaster. The film was short listed for the 2004 Academy Awards and won an additional seven awards around the world including Grand Prizes at the Global Peace Festival.
In 2011 working on two unique stories for two different broadcasters, Peter completed two feature documentaries: My America which premiered at the Sydney Film Festival and was broadcast around the world. The Trouble With St Mary's – broadcast on the ABC was about a rebel priest who sacked by the Catholic Church for unorthodox practices.
Since 2013 Peter has been working at Griffith Film School and is now the senior lecture and Program Director of the Master of Screen Production program.
Recently Peter has produced and directed Éva a short documentary about Éva Fahidi a Holocaust survivor's passionate perspective on the refugee crisis in Europe. Peter also co-directed Strudel Sisters a short documentary selected for Hot Docs International Film Festival as well as the Sydney Film Festival. Notably, both of his latest documentaries Éva and Strudel Sisters were nominated at the St Kilda Film Festival for best documentary. Strudel Sisters later won the 2016 Devour! Golden Tine Award for Best Short Documentary.
In 2018, Peter completed the feature documentary Lili a co-production between Hungary and Australia about a young woman who abandoned her two year old daughter in 1956 setting off a cycle of abandonment in her family over three generations.
Filmography Peter Hegedus
2018 "Lili" – a 52 / 85 minute doc about a family torn apart by generational abandonment - yet to be released
Producer, Writer/Director
2016 "Strudel Sisters" – 8 minute short doc about two sisters who make strudel from a recipe they learnt from their mother. Official selection – HOT DOCS, Sydney Film festival, St Kilda Film Festival 2016 Devour! Golden Tine Award for Best Short Doc! Co-producer/ Writer/director
2015 "Eva" – an 8 min short doc about Eva Fahidi who shares her views on the 2015 refugee crisis.
Nominated for Best documentary at St Kilda Film Festival
Producer/ director
2014 "BIG STORIES SMALL TOWNS" – a series of short docs (approx 45 min) about the town of Beaudesert in Queensland Australia . Commissioned by Award winning Big Stories Co Co-producer/ Writer/director
2013 "Welcome to the Lucky Country" – 20 minute short drama film about the plight of refugees arriving to Australia illegally.
AWARD – Audience award at the Backyard Film Festival Producer/ Writer/director
2011 "Trouble with St Mary's" –72/56 minute documentary for ABC TV Australia, Screen Australia and Screen Queensland
Producer/ Writer/director
2011 "My America" – 84/52 minute theatrical doc broadcast by SBS, ARTE, YLE, ORF; Sydney Film Festival, Mumbai Film Festival Producer/ Writer/director
2007 "Wings to Fly" – a 57 minute documentary for ABC Premiered on the ABC Compass program
Producer/ Writer/director
12
2003 "Inheritance, a fisherman's story" (75/52 min) A feature length documentary for SBS TV Australia, RTBF
- Short-listed for an Academy Award 2004
- Grand Prize at the Global Peace Film festival
- Grand Prize at Real Life on Film Festival
- Special Jury Prize – Int'l Science Festival
- Film Critic's prize for best young documentarian
- Best social documentary - the Hungarian Film Festival
- Official selection at Margaret Mead Film Festival, Visions Du
Reel Documentary Festival, Hot Springs Doc Festival, Palms
Springs Film festival, Full Frame Doc Film Festival
Producer, Writer, and Director
2000 "Grandfathers and Revolutions" A 52 minute documentary
- Grand Prix Festival International, du film independent Brussels,
- Crystal Heart Award Heartland Film Festival USA
- Honorary diploma and best documentary by student jury at the
37th International Krakow documentary Festival
- Grand Prize for best Television documentary at the 14th Parnu
International Documentary Festival
Producer, Writer and Director
Filmography
| | |
| --- | --- |
| | In the year 2000, the Hungarian river, Tisza, is flooded with tons of cyanide from an Australian-Romanian gold mine in Baia Mare, Romania... |
| | WINNER! Best Documentary, Hungarian Film Critics Award. Nominated for BEST DIRECTOR of a Documentary Feature, Australian Directors' Guild Awards, 2020... |
| | Az Ausztráliában élő 84 éves Lili történetét ismerhetjük meg a filmben, aki a saját és családja életét alapvetően meghatározó traumákat hordoz magában... |