GALLIPOLI
Year: 2005
Classification: PG
Runtime: 120 min
Directed By: Tolga Örnek
Produced By: Tolga Örnek
Website: www.gallipoli-film.com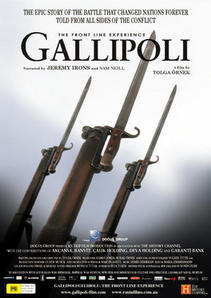 price includes GST and postage
Through the use of surviving diaries and letters of the soldiers, GALLIPOLI shows the bravery and the suffering on both sides. An epic reconstruction of the battle that changed nations forever: a film of spectacular visual sweep and great emotional power.
It all began as a demonstration of strength against the Ottoman Empire by Great Britain and her allies. It became one of the largest landing operations in history and one of the bloodiest and most controversial battles of the First World War. The campaign affected Turkey, Australia and New Zealand profoundly. A new national consciousness began to rise on the shores of Gallipoli. For Australia and New Zealand, it became their first major trial on the world stage - a baptism of fire. For the Turks, it was a crucial step on the path towards a new country and a new national identity.
To capture the spirit of the campaign and the experience of the soldiers, GALLIPOLI tells the story simultaneously from the perspective of all sides involved, and sets out to capture the human dimension within the general structure of the battle. The war itself is the only enemy in this film. The campaign is told through the diaries and letters of 2 British, 3 New Zealand, 3 Australian and 2 Turkish soldiers. The film portrays the historical importance of Gallipoli based on facts and from the perspectives of these soldiers who are representative of the thousands of soldiers from both sides. It is the story of ordinary men forced by history to do extraordinary things. The courage with which they faced hardship, and the sacrifices they made, are brought to life through their own words. It is their common experience and it is their story.
GALLIPOLI is a film by award-winning Turkish director, Tolga Örnek, narrated by Jeremy Irons and Sam Neill. Australian military historian Brad Manera, an expert on costumes and weapons, travelled to Turkey during the main shoot to check the historical accuracy of every detail in every scene.
Produced over six years and in seven different countries, GALLIPOLI uses newly uncovered diaries, letters and photographs from both sides; interviews with international experts; on-location landscape, underwater and aerial photography; 3-D computer animations; and dramatic re-enactments of trenches and battles. More than 70 archives in the UK, Germany, France, Russia, Australia, Austria, New Zealand and Turkey were researched and more than 16 international historians were consulted to make the film as historically rich and accurate as possible.
---
Go here to view trailer www.youtube.com/watch?v=vubHDxzIiEs
---
Related files
Images