Jane Campion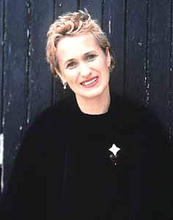 Campion was born in Wellington, New Zealand. She graduated in Anthropology from Victoria University in 1975, and with a painting major at the Sydney College of the Arts in 1979. She started making films in the early eighties at the Australian Film Television and Radio School.
Her first short film, Peel (1982) won the Palme D'Or at the 1986 Cannes Film Festival, and other awards followed for the shorts Passionless Moments (1983) and Girls Own Story (1984). Sweetie (1989) was her feature debut, and won international awards. Further recognition followed with An Angel at my Table (1990), an autobiographical and psychological portrayal of the poet Janet Frame. International recognition followed with another Palme d'Or at Cannes in 1993 for The Piano, which won the best director award from the Australian Film Institute and an Oscar for best screenplay in 1994. At the 66th Academy Awards, she was the second woman ever to be nominated best director.
Campion's work since that time has tended to polarize opinion. The Portrait of a Lady (1996), based on the Henry James novel, featured Nicole Kidman, John Malkovich, Barbara Hershey and Martin Donovan. Holy Smoke! (1999) teamed Campion again with Harvey Keitel, this time with Kate Winslet as the female lead. In the Cut (2003), an erotic thriller based on Susanna Moore's bestseller, provided Meg Ryan an opportunity to depart from her more familiar onscreen persona.
Campion was an executive producer for the 2006 documentary Abduction: The Megumi Yokota Story.
__________________________________________________
FILMOGRAPHY
Shorts:
Tissues (1980)
Mishaps: Seduction and Conquest (1981)
Peel: An Exercise in Discipline (1982)
Passionless Moments (1983/4, co-director Gerard Lee)
A Girl's Own Story (1983/4)
After Hours (1984)
In the Cut (2003)
Television:
Dancing Daze (1985, episode of TV series)
Two Friends (1986, telefeature)
An Angel at my Table (1990, TV miniseries in 3 parts, later released theatrically as a feature)
Features:
Sweetie (1989)
The Piano (1993)
The Portrait of a Lady (1996)
Holy Smoke (1999)
In The Cut (2003)
Bright Star [2009 post-production]
OTHER CREDITS:
The Audition (1989) Dir: Anna Campion
Short film directed by her sister, featuring Campion and her mother Edith, who is auditioning for a role in An Angel at my Table. (In the finished product, Edith plays the high school English teacher Miss Lindsay, who gives a rousing classroom recitation of Tennyson's Excalibur that enthralls Janet.)
Portrait: Jane Campion and The Portrait of a Lady (1996) Dir: Peter Long & Kate Ellis
Documentary of the two-and-a-half month shoot for The Portrait of a Lady.
Soft Fruit (1999) Dir: Christina Andreef
Campion served as Executive Producer on Andreef's feature film debut.
Filmography
| | |
| --- | --- |
| | PEEL - On a hot Australian summer's day, a recalcitrant, freckled, red-headed family of three go on a Sunday drive in the country... |