SECRET AND SACRED
Year: 2008
Classification: G
Runtime: 53 min
Produced In: Australia
Directed By: Andrew Taylor
Produced By: Rachel Lane
Language: English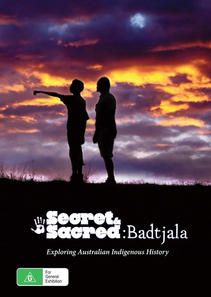 price includes GST and postage

SECRET AND SACRED examines all aspects of Badtjala life inclusive of Creation/Dreamtime stories, Birthing, Male Initiation, Totems, Marital, Tribal/Ceremonial events & Burial practices including how the Badtjala lived and interacted with their tribal neighbours. SECRET AND SACRED also examines events beginning with the arrival of European settlement and ending with the current status of the tribe as it exists today.
This ambitious project, 12 years in the making, is designed to educate all Australians about their Indigenous history and culture by building bridges of understanding, leaving a lasting documentary record. The Elders have made this project possible because of their desire to tell their story before it is too late and have signed letters of authorisation to allow these sensitive subjects to be addressed.
Produced in co-operation and with the participation of the Badtjala Elders.